Child Abuse
The Sheldon Kennedy Story
Child of Rage
A Child's Cry
In The Best Interest of the Child
I Know My First Name is Steven
Kids Don't Tell
Liar, Liar: Between Father and Daughter
Sins of the Mother
Shattered Trust: The Shari Karney Story
Breaking Through
You Belong To Me Forever
Untamed Love
While Justice Sleeps
Trapped In Silence
A Mother's Right: The Elizabeth Morgan Story
Judgment Day: The Ellie Nessler Story
For The Love Of A Child: The Childhelp USA Story
Perfect Murder, Perfect Town -- The JonBenet Ramsey Story
Getting Away With Murder: The JonBenet Ramsey Story
Ramseys on Barbara Walters Show
The Color Purple
Chasing Secrets
Do You Know The Muffin Man?

Close To Home
(Sheldon Kennedy Interview; Part of the SK Tape)

Multiple Personality Disorder
Domestic Violence

Cries Unheard: The Donna Yaklich Story
Men Don't Tell
Shattered Dreams
Dangerous Intentions
The Burning Bed
Escape From Terror: The Theresa Stamper Story
Taking Back My Life
The Promise
What's Love Got To Do With It?

Terror At Home: Domestic Violence In America
Hidden Victims: Children of Domestic Violence
John Walsh Show: Domestic Violence
Self-Injury / Eating Disorders

Secret Cutting (AKA "Painful Secrets")
(From USA Network--Co-Stars Robert Wisden and directed by Norma Bailey of The Sheldon Kennedy Story)

John Walsh Show: Self-Injury

Sharing The Secret
Missing Children/Parental Abductions

I Know My First Name is Steven
(About both child abuse and child abduction)
When Andrew Came Home
Someone She Knows
(From Direct TV's "True Stories" Channel)
The Haunting Of Lisa
The Elizabeth Smart Story
Captive ('91)
Natalee Holloway

 John Walsh Show: Erin Runnion
John Walsh Show: Kidnappers
ABC Primetime: Kidnapping and Prevention
Law and Order SVU: Episode based on the Groene story
Larry King Live: John Walsh
Donahue Show: John Walsh
Sexual Assault/Rape/Harrassment

The Man Next Door
A Mother's Revenge
Silencing Mary
We Were The Mulvaneys
The Stranger Beside Me
All My Children -- The Rape of Bianca Montgomery
Moment of Truth: Someone To Love Me
When He's Not a Stranger
A Date With Darkness: The Trial and Capture of Andrew Luster
Degrassi High: Next Generation episode about Rape
Stalking
Bullying
Runaways
Internet Predators / Sexual Predators

Defending Our Kids: The Julie Posey Story

Tyra Banks Show: Internet Predators
To Catch a Predator (Various)
John Walsh Show: Sexual Predators
Montel Show: "Beware Internet Predators"
Sally Jessie Raphael on Internet Policing

Other / Misc.

The Matthew Shepard Story
The Ron Clark Story
Forbidden Secrets
America

Brandon Teena Story on Nightline
John Walsh Show: Men Whose Wives Murdered Their Kids
John Walsh Show: Depression
Growing Pains Episode about Drunk Driving
Larry King Live: Autism
Jerry Springer: Homeless/Street Kids
Steve Wilkos Show
(Email me for specific show titles if you're looking for one in particular)

Season One - 4-tape set
Season Two - Coming Soon!

Tori Amos Material

Unplugged, 1996, 60 min.
Scarlet Sessions, 2003, 60 min.
Live in NY, Benefit for RAINN
Tori on MTV2
"The Big Picture" video by YKTR
Tori on Leno, 4/16/03
Isaac Mizrahi Show appearance
Oxygen Custom Concert
Last Call w/Carson Daly
SNL appearance (CALS)

Interested?

Would you like any of the movies listed below? Email me and I'll get back to you to make arrangements! Please be sure to put "VIDEO TAPE ORDER" in the title line. Due to spam control, I delete anything that's titled "hey" or "hello" or anything like that.

Some details:
Every tape I send is High-quality, 6- or 8-hour videotape (depending on how many movies you order).

First two tapes are $10.00 and
every tape after is an additional $5.00
to cover shipping, videocassettes and the packaging.

All I accept are postal (if you live in the USA) and international (if you live in Canada) money orders. If you wish to send money via Paypal, it can be arranged.

I make no profit whatsoever on this, I just offer these movies to help educate people.
---

Child Abuse
The Sheldon Kennedy Story
Copy of this movie includes several interviews and a couple of specials he has appeared in.
Back to top

Child of Rage
This is a true story about seven-year-old Catherine, who was adopted with her brother by a loving couple. Over time, her strange behavior, short temper and frequent mood swings alert her parents to a deep-rooted history of abuse.

Back to top

A Child's Cry
A social worker starts working with a shy, withdrawn 6 year old whom she believes is the victim of sexual abuse.

Back to top

In The Best Interest of the Child
A mother faces kidnapping charges when she prevents her husband from seeing their daughter. She thinks he has been sexually abusing the child.

Back to top

I Know My First Name is Steven
On December 4, 1972, seven-year-old Steven Stayner got into a car with a stranger who convinced the boy that he was his new dad. Steven was mentally and physically abused in the most horrifying ways. Seven long years later, Steven miraculously finds his way home. But his nightmare isn't over yet — not until his captor is brought to justice.

Back to top

Kids Don't Tell
To the detriment of his own family life, a documentary filmmaker becomes obsessed with his filmed interviews of child molesters and their victims.

Back to top

Liar, Liar: Between Father and Daughter
This is a story of a celebrated case in Canada in which a father is accused of molesting his young daughter, who may not be telling the whole story.

Back to top

Sins of the Mother
The story of the bizarre relationship between a domineering, manipulative mother and her emotionally dependent son, a violent serial rapist.

Back to top

Shattered Trust: The Shari Karney Story
A California attorney working on a sexual abuse case experiences flashbacks that reveal suppressed memories of incest in her own family. On the verge of a breakdown, she seeks therapy and eventually confronts her family with her dark secret.

Back to top

Breaking Through
Based on a true story. A case worker for the Los Angeles Commission on Assaults Against Women commits herself to helping a 22-year-old woman who is deaf.

Back to top

You Belong To Me Forever
An idealistic female district attorney is caught up in protecting a young girl from her abusive, ruthless father. Unable to save the child in court, the attorney escapes with her into hiding. A sheriff with secrets of his own comes to their rescue as the girl's father and his hired thug close in on them.
Back to top

Untamed Love
The true story of an abused, maladjusted, highly intelligent child who is committed to a mental asylum after she ties up a little boy to a tree and sets him on fire. Her special education teacher, Maggie, takes a particular interest in her when she realizes the girl's potential.

Back to top

While Justice Sleeps
A widow in a rural Montana town discovers that for years, her young daughter had been molested by a close family friend. When he eludes the justice system, she takes the law into her own hands and guns him down.

Back to top

Trapped In Silence
Kevin is a silent, violent teenager caged within himself until he meets Jennifer, a psychologist with unorthodox methods. Called upon in a last ditch effort to bring Kevin out, Jennifer discovers that his silence is self-inflicted. With Jennifer's untiring help, Kevin begins to talk, mentioning three sisters, but records show only two. As Jennifer puts the pieces of the puzzle together, she discovers that Kevin was an abused child who witnessed the sadistic murder of a sister by his stepfather -- a sight so awful that Kevin became trapped in silence -- until now. Kevin soon realizes that Jennifer's warmth and unselfish dedication to him stems from her love, a love he has been desperately searching for all those years that he was trapped in silence. Arguably one of Kiefer Sutherland's best performances of his career, a MUST-SEE!

Back to top

A Mother's Right: The Elizabeth Morgan Story
A woman is jailed for refusing to reveal the location of her daughter, whom she claims was molested by her ex-husband.

Back to top

Judgment Day: The Ellie Nessler Story
A Bible-quoting mother is put on trial for murder after she shoots a camp counselor who sexually molested her seven-year-old son at summer camp.
For The Love Of A Child: The Childhelp USA Story
Think about it -- if you had to choose between a life of fame and fortune in Hollywood or putting and end to the growing epidemic of child abuse, which would you pick? The answer was clear for rising stars Sara O'Meara and Yvonne Fedderson. They removed themselves from the spotlight and focused it on kids who have endured unthinkable physical and emotional nightmares; these women found a way to rehabilitate and give hope to children who had nowhere else to turn. Don't miss this triumphant true tale of two real-life heroines.

Back to top

Perfect Murder, Perfect Town -- The JonBenet Ramsey Story
The bizarre killing of six-year-old beauty queen JonBenet Ramsey stunned the nation and saturated the airwaves. Based on director Lawrence Schiller's book, this true-crime tale unveils the blunders, the big egos and the lack of cooperation that impeded the murder investigation. The flick features powerful performances by an all-star cast — especially Marg Helgenberger as JonBenet's mysterious mother, Patsy.
Back to top

The Color Purple
This film follows the life of Celie, a young black girl growing up in the early 1900's. The first time we see Celie, she is 14 - and pregnant - by her father. We stay with her for the next 30 years of her tough life.
Back to top

Chasing Secrets
Some performers were destined to appear together in a movie. That's clear when you see the late, great Ossie Davis alongside the talented Della Reese. The two portray an older African-American couple in a rural Southern community who befriend a young girl trying to escape her abusive family. They open their hearts despite what could happen to them. This heartwarming tale is right up there with classics like "To Kill a Mockingbird."
Back to top

Do You Know The Muffin Man?
Roger Dollison, a police officer, and his wife Kendra are living the american dream. They have two children, Teddy and Sandy, and a lovely home and a dog named Rex. What they know and how they live as a family is irreparably changed one day when it is discovered that a classmate of Teddys is the apparent victim of sexual abuse and molestation at the respected neigbourhood daycare centre. Like all other parents, the Dollisons are tormented - "we should have known, we should have seen" - but there devastation is complete when Teddy tells his own story, one he promised his abusers he would never tell.
Multiple Personality Disorder
The Terror Inside
After the death of her abusive father, a woman who struggles with multiple personality disorder puts herself and her family in danger when one of her personalities tries to make her commit suicide.

Back to top

Sybil
The true story of a young woman named Sybil, whose childhood was so harrowing to her that she developed at least 16 different personalities.

Back to top


Domestic Violence

Cries Unheard: The Donna Yaklich Story
Handsome, a devoted dad and a cop too: No wonder Donna married Dennis! But before long, his aggressive nature (pumped up by steroid addiction) turns her adoring new husband into an abusive monster. But Donna can't go to the police — they are all Dennis' friends! Before long, her desperation leads to the deadliest of plans. Based on a true story.

Back to top

Men Don't Tell
An unhappy wife who was abused as a child physically beats her passive husband. When he defends himself during one of these tirades, she is hospitalized and he is accused of attempted murder. The true nightmare of their marital relationship unfolds when the whole family is questioned by the police.

Back to top

Shattered Dreams
Domestic abuse can happen to any woman. You don't have to tell that to Charlotte Fedders. She was the wife of a prominent Washington official. Behind closed doors, this upstanding politician turned into a rage-aholic who violently beat Charlotte. It took all the courage in the world for her to stand up to him and go public with her story to help other abused women. This inspiring movie is based on her autobiography.

Back to top

Dangerous Intentions
This is a shocking true story about an abused woman on the run. After spending years in a violent marriage, Beth finally packs up her kids and enters a shelter for abused women. There she meets Kaye, a fellow victim. The two become fast friends and decide to move in together. But just as they begin rebuilding their lives, Beth's husband comes calling - and what he does will raise the hairs on your neck. But don't worry: His justice is coming!

Back to top

The Burning Bed
This film featuring a riveting performance by Farrah Fawcett sets the bar for all dramatic TV movies! Fawcett plays a small-town housewife and mother of three who's pushed to the brink by her husband's mental and physical torture. With no resources and no way out, this mom will take a shocking stand to save herself and her kids. Based on Faith McNulty's book, this story helped bring battered woman syndrome into the spotlight.

Back to top

Escape From Terror: The Theresa Stamper Story
Teresa's relationship with her boss, Paul, starts off like a fairy tale — he's all about courting her and being romantic. But after they get married, she discovers not only that he's got a serious drug problem but that he's a violent maniac too. You won't believe how she finally breaks free from this madman she once loved! Based on a true story.

Back to top

Taking Back My Life: The Nancy Ziegenmeyer Story
Nancy Ziegenmeyer, a mom of three, is studying for a real estate exam in her car when she is brutally raped by a stranger. But the legal system and her own community fail her afterward, blaming incidents from Nancy's past for inciting the attack. A real survivor, Nancy finds a way to share her ordeal that helps other victims everywhere.

Back to top
The Promise
Based on a true story. A woman seeks justice after discovering that her sister was murdered by her abusive husband.
What's Love Got To Do With It?
Based on a true story and book. Tina Turner (Angela Bassett) is discovered by Ike Turner (Laurence Fishburne) while singing in a jazz club one night. He manages her career, and they fall in love and get married. However, behind her professional success, Tina Turner endures abuse, rape and beatings from her violent husband. Eventually she gathers the courage to leave Ike and embark on a solo career.
Self-Injury & Eating Disorders
Secret Cutting (Painful Secrets)
(From USA Network--Co-Stars Robert Wisden of The Sheldon Kennedy Story)
Dawn isn't like other kids her age — full of typical teenage angst about boys, school and parents. Her pain goes far deeper, and to deal with her emotional overload she physically cuts herself. The problem of adolescent girls committing self-mutilation is very real, and this movie exposes the growing epidemic. It's a film you can't afford to miss.
Back to top

Sharing The Secret
A child psychologist ignores all the signs of her daughter's eating disorder. Will she catch on to her child's out-of-control bingeing and purging before it's too late?
Missing Children / Abductions

When Andrew Came Home
"When Andrew Came Home" is an inspiring story of a mother's love and unwavering faith in her young son when everyone around her has given up on him. Gail (Park Overall) is a divorced woman in a healthy relationship with a new man who is happily raising her spunky, well-adjusted five-year-old son, Andrew (Seth Adkins). During a routine court-ordered visit with his father, Gail's ex-husband, Andrew goes missing. She reports the abduction, but an ill-prepared, somewhat ineffective bureaucracy works against her efforts. Gail takes matters into her own hands, trying to track down her son by any means possible, but to no avail. Flash forward five years: Andrew's father finally contacts Gail and sends their son home to her. Gail's joy at having her son back is short-lived, however. Instead of the happy-go-lucky, loving Andrew she remembers, the 10-year-old boy is a sullen, unpredictable, angry, antisocial wild child who is unable to read or write. With the odds stacked against her, Gail must find a way to reach through to her son, or risk losing him forever.

Back to top

Someone She Knows
(From Direct TV's "True Stories" Channel)
This is the true story of a distraught mother who turns to the cop next door after her five-year-old daughter is murdered. She comes to the terrifying conclusion that the killer is someone she knows.

Back to top
The Haunting of Lisa
A nine-year-old girl is haunted by visions of a mysterious lady who provides her with information regarding the whereabouts of a missing child. The girl and her mother (Cheryl Ladd) race against time to put the clues together.

Back to top
The Elizabeth Smart Story
Based on the true story of the kidnapping of teenager Elizabeth Smart, in June 2002, by two people in Salt Lake City, Utah, USA.
Back to top

Captive ('91)
The Plunks open a small motel in the Oregon mountains to give their daughter a better life. Unfortunately, no one can hear you scream in such a remote area! That's bad news for this family because their first guests are wanted criminals. You'll never look at John Stamos or Chad Lowe the same way after this flick - they'll give you goose bumps as the sociopathic bad guys.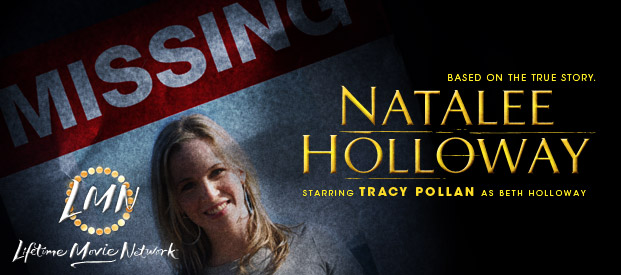 Natalee Holloway
Teenager Natalee Holloway vanished in 2005 while visiting Aruba on a senior class trip. In a passionate and relentless effort to discover the truth behind her daughter's disappearance, Beth Holloway captured the nation's attention by working tirelessly to solve the mystery that shattered her family's life. Today, Holloway continues to speak publicly about the potential dangers of international travel. Her resolve and unwavering strength are at the center of this emotional story that takes viewers behind the headlines and into the heart of an extraordinary woman. The movie, about a mother's search for truth and justice, is based on the book "Loving Natalee: A Mother's Testament of Hope and Faith" by Beth Holloway.
Sexual Assault / Rape / Sexual Harassment
The Man Next Door
A quiet community explodes when they learn that a serial rapist, just freed from prison, has settled in their town. Is he behind the recent string of crimes or just an easy scapegoat?

Back to top

A Mother's Revenge
Based on the book "Desperate Justice," by Richard Speight. After her daughter is raped and physically abused by a school janitor, a mother's quest for justice culminates in a courtroom shoot-out. But the rapist is freed on a legal technicality, prompting the mother to take matters into her own hands. Unfortunately, her vigilantism leads to another trial in which she faces murder charges.

Back to top
Silencing Mary
When a college coed is date-raped by the school's star football player, the university is shockingly set on keeping the crime hush-hush. But the victim's roommate, who also happens to be a campus reporter, is determined to expose the scandal and make this athlete pay for his crime. Unfortunately, everyone will turn against this journalist and try to prevent her from telling the real story. Their mistake — nothing will get in the way of her pursuit of justice. Nothing!

Back to top
We Were the Mulvaneys
The Mulvaneys seem perfect - as close as close could be. Nothing could tear this clan apart, or so you'd think. But when the only daughter in the family is raped, everything falls apart, especially when the parents force everyone to keep quiet about the crime.

Back to top

The Stranger Beside Me
When a number of rapes occur in a tight-knit community, all evidence seems to point to Jennifer's new husband, Eric. But she refuses to believe that her beloved spouse could commit such heinous crimes. When she realizes he may be guilty, will she work with the cops or help her hubby go free? Find out in this unbelievable true story!

Back to top

All My Children -- The Rape of Bianca Montgomery / Bianca's Rape Trial
From August 2003, with William DeVry and Eden Regal. Excellently portrayed.

Back to top

Moment of Truth: Someone To Love Me
In this drama inspired by actual events, high-school student Cayley Young is brutally raped by a fellow student. But coming forward isn't easy for the teen; she fears that her promiscuous past will be used against her. Will Cayley's rapist be brought to justice, or will her tainted reputation get in the way? The verdict is sure to be shocking!
Back to top

When He's Not a Stranger
At a California university, Lyn goes to meet her best friend Melanie in the dorm room of Melanie's boyfriend Ron, a football star. When Lyn arrives, Melanie is not there. Ron forces himself on Lyn. When she resists, Ron throws her on the bed and rapes her. Lyn initially tries to forget about it, but then she does decide to pursue a university hearing.
Back to top

A Date With Darkness: The Trial and Capture of Andrew Luster
Cosmetics heir Andrew Luster thought that with his good looks, money and charm he could do anything. That included drugging and raping women — and even videotaping his heinous acts. But three very different and very brave women who were victims fought back against this predator. This is the incredible true story of how they got justice.
Stalking

Sanctuary
The tables are turned on acclaimed photojournalist Jo Ellen Hathaway when a crazed cyberstalker starts shooting photos of her. In an effort to escape this wacko, Jo returns home to the idyllic island where her family runs an inn. But things will be anything but peaceful and quiet there. You won't believe what happens! (Based on the book by best-selling writer Nora Roberts.)
Back to top

Intimate Stranger
Single mom Karen was convinced Dennis was her Mr. Right. The charismatic man even wowed her son, Justin. But when Dennis becomes a control freak, Karen calls it quits, and her scorned ex resorts to spying, threatening and setting up a secret hiding space - in her home! Ready for the kicker of this bizarre story? It really happened! Wait till you see how it turns out.
Bullying
Odd Girl Out
Some think of their early school years as their "glory days," but for many teen girls it's a time of psychological warfare filled with backstabbing, jealousy and phoniness — and that's among your closest friends. Welcome to the world of Vanessa, a well-liked girl who suddenly finds herself in the popular crowd's line of fire. Vanessa has always been best buds with queen bee Stacey. But when a petty tiff escalates between the two, Stacey and her posse viciously turn on Vanessa. Barbara, Vanessa's mom, struggles to help her daughter evolve from outcast to survivor. Based on the national best-seller "Odd Girl Out," this film is a shocking look at the behavior of adolescent girls.
Runaways
On The Edge Of Innocence
A rebellious 17-year-old manic-depressive is committed to a mental hospital after she starts skipping her meds. You'll never guess what happens next: She meets a hot guy in the institution, and the two of them decide to bust out and make a break for Mexico. That's not even the worst of what they do - tune in and see.
Internet Predators / Sexual Predators

Defending Our Kids: The Julie Posey Story
When sexual predators entered Julie Posey's home through the Internet and tried to ensnare her teenage daughter, the unassuming mother decided to fight back. This remarkable woman went undercover online and posed as an adolescent girl to help capture pedophiles. Find out how far Posey goes in her pursuit of justice - and whether a secret from her past will prevent her from accomplishing her mission.
Back to top

Other / Misc.
The Matthew Shepard Story
Just like other kids his age, openly homosexual college student Matthew Shepard was looking forward to the next chapter in his life. But in 1998 his life story ended abruptly when he was robbed, brutally beaten and tied to fence, left to die. His attackers were caught and jailed, but Matthew's parents still had one struggle to face: deciding whether or not to ask for the death penalty. Don't miss this powerful drama based on the true story.
Back to top

The Ron Clark Story
Three-time Emmy Award® nominee Matthew Perry (TV's Studio 60 on the Sunset Strip, Friends) delivers a "...tour-de-force performance" (Boston Herald) as real-life inspiration Ron Clark, a passionate and innovative teacher who leaves his small hometown to teach in one of Harlem's toughest schools. But to break through to his students, Clark must use unconventional methods, including his ground-breaking classroom rules, to drive them toward their greatest potential.
Back to top

Forbidden Secrets
In the midst of divorcing her controlling hubby, Alex moves back into her childhood home, where her mom and aunt tragically died when she was only six. Suddenly, strange things start happening and a confused Alex must dig into the mysteries of her past to figure out what's going on. But some secrets might be better off buried for good - watch and see!

America
Dr. Maureen Brennan (Rosie O'Donnell), a psychiatrist at a youth treatment center, encounters her newest patient, a 16-year-old biracial boy named America. Through their sessions, Dr. Brennan helps America come to terms with his roller-coaster life, which began when he was taken by authorities from his crack-addicted mother and placed into foster care as an infant. In this emotional story, Dr. Brennan works to help him open up about his painful past and discover the support and courage he needs to get his life back on track. This Lifetime Original Movie is based on the book "America" by E.R. Frank.