Thursday, September 23, 1999
Scarred for life: Kennedy movie recounts tragic self-mutilation
By ERIC FRANCIS -- Calgary Sun
Sheldon Kennedy had run out of answers and places to hide.
His head swimming in a world consumed by anger, shame, fear and alcohol, he slumped on his bed with razor blade in hand and tears in his eyes.
Then he started slicing.
A single pass of the blade across his chest was followed by another. As blood seeped from a body and soul that had been sexually abused for years by junior hockey coach Graham James, the desperate Kennedy continued the senseless mutilation.
Stopped only by the unexpected arrival home of his wife Jana, Kennedy doesn't recall whether his next slash was intended for his wrists or throat.
"I don't know if it would've happened," said Kennedy yesterday, when asked if he intended to kill himself that night.
"I don't know where I was as far as my state of mind. I was lost. I slashed myself all over the place but I don't remember much about it. All I know is she saved my life a few times."
Speaking for the first time of an incident tastefully depicted in the made-for-TV movie The Sheldon Kennedy Story (to air Oct. 3 on CTV), Kennedy said he was moved to tears several times when seeing his painful past re-enacted.
The incident occurred late in his NHL career when, as a member of the Calgary Flames, he had first informed his wife, and coach Pierre Page, of James' improprieties. It was just one of Kennedy's many low points chronicled in the movie starring Jonathan Scarfe.
Given the last word on the script, Kennedy agreed to endorse the movie in an effort to further raise awareness on the previously unspoken crime of sexual abuse in sport -- the cover story on last week's Sports Illustrated.
"What we really wanted to accomplish was to make it something people weren't scared to watch," said Kennedy, who made a few minor changes to the script.
"I think the movie is more powerful than the (cross-Canada in-line) skate.
"It gives people a real picture of the emotional roller coaster and the steps necessary to start dealing with something so many people keep hidden."
Filmed locally, the movie does well to avoid the graphic nature of the abuse, while at the same time giving family viewers a powerful look at his tragic tale -- a tale he turned into a feel-good story with a cross-country skate that raised awareness and money for abused children.
Although he never reached his goal of $15 million to build a ranch for abuse victims, he's not disappointed by a skate that came under heavy criticism along the way when it was learned he received payment for the endeavour and crashed a Hummer while driving drunk.
"The way I look at it, the only people who don't make mistakes are the ones who don't do anything," said a philosophical Kennedy, whose hockey career was dotted with legal run-ins.
"I chose to take a stand and I'm proud that we made a difference in society.
"Yes, I made mistakes, but I've been honest about them. It's how you deal with (mistakes) in life that's important."
Since the skate, Kennedy has taken a final stab at resurrecting his NHL career and spent a summer "playing Mr. Mom" with his three-year-old daughter while Jana attended massage therapy classes.
It was as medicinal as it was relaxing.
It also gave him a chance to realize he no longer had the desire to return to a sport that consumed so much of his life and caused so much pain.
"I'm done," said Kennedy, 30, who finished last season in Germany.
"I wanted to go back (to hockey) to see if I wanted it again but I couldn't get into the game. I realized this summer I want to dedicate my career to helping others. I'm on a mission to make a difference."
That mission began with a full-time job at the Red Cross, which is the beneficiary of the $1 million in cash and assets previously held by the now-defunct Kennedy Foundation.
As a spokesman for the organization's expanding Abuse Prevention Program, the Calgary resident is taking various courses to further help himself and others.
Yes, he's come a long way from the dark bedroom that nearly saw him take his life.
The scars from the razor have disappeared, thanks to laser surgery.
The scars from Graham James, while fading, still linger.
The September 13, 1999 issue of Sports Illustrated asks the important question "Who's Coaching Your Kid? - The frightening truth about child molestation in youth sports" and brings attention to an important topic in child safety: molestation by coaches in youth suports.
"Sports Illustrated has taken a subject that needed to be told and hit a home run. The entire cover shows 6 mug shots of sex offenders... The article is long and detailed on ways sex offenders gain the trust of children, and their parents... The authors are to be commended for bringing the issue of child sexual abuse by coaches out into the open, and to the readers within the sports world."-- Debbie Mahoney, founder of Safeguarding Our Children - United Mothers and mother of a victim
Publishing the article took a lot of courage and, according to Debbie Mahoney, has caused backlash for Sports Illustrated. As the article states, in the past, the subject of molestation in youth sports was a dirty little secret.
Today the reporting of child molestation in youth sports is about where the reporting of rape in society was 30 years ago. However, there are indications that things are changing, that after decades of being ignored, minimized or hidden away, the molestation of players by their coaches is no longer the sporting culture's dirty little secret.
Of course, the Sports Illustrated article is not the first time the subject has received public attention. In 1997, Sheldon Kennedy, a Boston Bruins hockey player, also made strides in breaking the silence. Although Canadian law protected his identity as a victim of sexual abuse as a teen, he came forward and disclosed his abuse soon after the junior league coach who abused him was convicted. He came forward so that kids would know that its alright to come forward and he gained respect and the support of fans and teammates alike.
The article is well worth the cost of the magazine. "Who's Coaching Your Kid?" provides important information about types of child molesters, how they operate, how they manipulate parents and children, and how they get away with molesting children. The average child molester in youth sports is not someone you would see as a threat:
Children often adore him. Parents seem him as just the male role model their boys need and invite him to Thanksgiving dinner...He believes he truly does love the boys in a way that raises him above other abusers.
The article also talks about why children in youth sports might be particularly vulnerable to the type of molester who chooses youth sports as his hunting ground:
The youngster is not only at a stage of sexual expoloration, an innocent in search of his sexual identity, but he's also often in rebellion against his parents, bent on taking risks. And all of this comes at a time when his hormones are in full gallop...Add to this already volatile mix the use of alcohol, marijuana and video pornography, all used by some molesters to further erode inhibitions, and the seduction can occur with surprising ease.
The same issue of Sports Illustrated included "Protecting Your Child," an article to help parents avoid abuse of their child by a coach and spot the signs of potential trouble in a coaching relationship.
For more information about types of molesters, see also Sex Offender Profiles from the National Center for Missing and Exploited Children.
If you want to support Sports Illustrated's decision to publish this article, Debbie Mahoney offers the following suggestion:
I am asking that you write the editor of SI and explain how important, and how commendable it was for them to write and publish such an article. It would be especially helpful if you have purchased that article, and/or are a subscriber to the magazine (my family is) and let them also know that. Nothing, including football, is more important than the safety of our children.
The following is the fax and email address for Sports Illustrated:
Email: letters@si.timeinc.com
Fax: (212) 467-4049
When writing to them there policy states that you must include your name, address, and home telephone number.
This is a great opportunity to engage in a little activism on a one-time basis.
Another important step to help protect children from abuse in youth sports and other youth activities would be to encourage youth groups to conduct criminal history checks of the volunteers. For more information about criminal history checks of volunteers, see the Volunteers for Children Act article published at this site earlier this year.
Protecting your Child--From Sports Illustrated
Originally posted: Wednesday September 08, 1999 06:19 PM
Photo illustration by Amy Guip, Photographs by llinois Department of Corrections; San Bernardino Sheriff's Office; Shreveport Times; Pasadena Star-News; Allegheny County Police; Phoenix Sheriff's Office
By Don Yeager
It would be easy, while reading about the likes of Norman Watson and Michael Hughes, to forget that the overwhelming majority of coaches on America's youth sports fields are there for all the right reasons. These coaches should be thanked, not subjected to a witch hunt. Nevertheless, a number of coaches have been convicted of child molestation, and the National Center for Missing and Exploited Children, the FBI and the mothers and fathers of some victims offer the following tips to help parents protect their children:
--DO A BACKGROUND CHECK--
Ask your league (or school) whether it does criminal-history or any other types of background checks on coaches. If it doesn't, ask why not. Many states and cities have policies allowing volunteer organizations that serve children to have criminal checks run for free by police. (If your state or city has no such policy, a criminal check by police should cost no more than $40 per coach.) Some states make their registry of sex offenders available on the Internet. Checks shouldn't be limited to criminal records, however. If the coach has coached in other leagues, call those leagues to make sure he wasn't accused of any sexual improprieties.
--DON'T TURN YOUR CHILD'S COACH INTO A BABYSITTER--
Don't drop your child off at games and practices and leave. Studies show that men predisposed to molest children often prey first on those regularly left unattended by parents. By being present, you let the coach know you are actively involved in your child's life.
--DON'T FALL FOR FLATTERY--
Be wary of any coach who says he's the one person who can help your oh-so-gifted child develop into a star or who spends an unusually large amount of time with the child "because he's such a wonderful kid." The coach may be trying to win your trust and groom your child for seduction.
--TALK TO YOUR CHILD AND THEN LISTEN--
Describe for your son or daughter what you consider inappropriate behavior by a coach (improper touching of his players, showing them pornographic material and so on). Make sure your child knows that if a coach says, "You can't tell your mom or dad" about something the coach is doing, the first thing the child should do is tell Mom or Dad. Assure your child that he or she will never get in trouble with you for telling the truth. If your child's interest in his sport or team suddenly diminishes for no apparent reason, ask why.
--BEWARE OF COACHES BEARING GIFTS--
"If it looks too good to be true, it probably is," Watson said from prison when asked whether he had any words of caution for parents. Watson took his player-victims to the mall and bought them games, clothes and athletic equipment. "All that should have been a sign," the FBI's Roger Young says. "That's not normal behavior for a nonparent."
--STAY INFORMED--
Some coaches don't want parents to know where the team will be staying on a road trip. These coaches often say that the presence of parents hinders team development. Bad sign. Demand to know. Also, ask what the arrangements are for showering after games and practices. There's generally no reason for children to be nude in the presence of the coach and no reason for the coach to be naked in the presence of a child.

Tuesday, September 28, 1999
Sheldon shares his story on TV-- Kennedy concerned about other abuse victims
By CLAIRE BICKLEY -- Toronto Sun
The movie's title may be The Sheldon Kennedy Story, but when it airs Sunday, Kennedy will be thinking about all the other people whose ordeals it will reflect.
"We thought about that child sitting there watching, or even the 65-year-old man that's been abused in his life and never dealt with it," the former NHL player says of the CTV movie about his decision to go public about being sexually molested for years by his junior hockey coach.
"We thought, 'Jeez, you know what, we have to put something in place for these people. We can't leave them hanging,' " Kennedy, 30, said yesterday on the phone from Vancouver where he and actor Jonathan Scarfe are promoting the film.
Scarfe portrays Kennedy as an adult; 14-year-old Noel Fisher plays him in his teen years. Polly Shannon is cast as his wife, Jana. Robert Wisden plays pedophile Graham James, who was sentenced in 1997 to 31/2 years in jail, but has since been released.
A massive support system will be in place during the film's 9 to 11 p.m. broadcast Sunday night, and for days afterwards, to deal with an anticipated onslaught of calls from abuse victims.
"If we want to try to create something that is going to open the box of feelings that has been buried for a long time, we have to be prepared to be able to give them a hand," Kennedy said.
He'll appear on-air at the end of the movie, urging abuse victims to seek help. Extra staffers will monitor the Kids Help Phone (1-800-668-686 and the Red Cross hotline (1-800-356-6336) and Web site (www. redcross.ca). CTV is also airing a new documentary, Sheldon: A Story Of Human Courage, Friday night at 8.
"I feel proud that this issue has got three hours of airtime in three days," Kennedy says of the project he was initially leery about committing to.
"I think that this movie, you could go 10 different ways on making it. You could make it graphic, you could make it ugly, you could make it scary or you could just do it the way it was and give people a really good opportunity to learn from it."
While never explicit, the film does make clear how James coerced and terrorized the teen. The scenes between Wisden and Fisher are terrifying, but Kennedy is glad the abuse wasn't entirely left to viewers' imaginations.
"I think that it's going to be chilling for a lot of people. It makes them look," he says.
"People are never around when those scenes happen and they've always said, 'Well, you know, how can you be that scared? Why didn't you say no? Why didn't you kick him away.' People never understand the type of fear that's involved in a young child in that kind of situation."
This month, Kennedy began a fulltime position as community relations coordinator for the Red Cross Abuse Prevention Service in Calgary, the organization that benefited from the more than $1-million he raised in-line skating across Canada last year.
Hockey is done for him forever, he says, his love of the game another of the casualties of Graham James.
"I've got a new passion," he says. "I've never done anything that's as gratifying as just being able to have one person come up and say, 'Thanks, you've made a difference in my life.' That is bigger than any goal you could ever score."
Reviews for the "Sheldon Kennedy Story"
Wednesday, September 29, 1999
Courage, crafted for the small screen-- The Sheldon Kennedy story airs this Sunday
Stephen Cole on Television
National Post
"Jonathan Scarfe plays Sheldon Kennedy with a skittish bravado: a case of inspired casting...."--Tannis Toohey, National Post
Sheldon Kennedy is looking and acting a little older now that he has seen the dramatization of his story through to completion.
The Sheldon Kennedy Story does a skilful, at times admirable job of placing the human tragedy and national calamity that was the Manitoba hockey star's rape within a popular TV movie format.
The film, which airs this Sunday on CTV, begins with a scene that Hockey Night in Canada might employ to dramatize the pull hockey has on Canadian youth, as we see young Sheldon twirl about a frozen pond alone, dreaming aloud of scoring a televised, Stanley Cup-winning goal as he whacks the puck into an unguarded net.
Next, in a sequence that might have been lifted from any one of a thousand stock Hollywood melodramas, we encounter Sheldon as a young man, clumsily, shyly bumping into his future wife in a crowded sports bar. (The beautiful model says howdy by drawing a pool cue back into Kennedy's abdomen). Soon they're on a date, in an empty arena, enjoying a big smooch in a klieg light halo at centre ice.
The cosy familiarity of the aforementioned scenes, which are scored with cloying, George Winston-like piano tinklings, only serve to make what follows seem all the more horrific. For a few scenes later, we are presented with yet another Sheldon Kennedy, as his junior hockey coach, Graham James, guides the nervous 14-year-old by the elbow into the hallway of his home, which is decorated with stuffed, mounted animals and photographs of hockey players.
"It's OK, I do this with all the boys ... boys just like you," James murmurs, seconds later, as he makes his first sexual overtures on the horrified youngster. In time, we come to understand that the players on James' wall are spiritually dead conquests of the voracious sexual predator, and that the juxtaposition of slain animals and prize hockey stars in his hallway is a grisly, mirthless Hitchcockian joke.
Some might suggest that The Sheldon Kennedy Story lacks the intellectual rigour of The Boys of St. Vincent, the NFB's searing docudrama account of sexual abuse at a Roman Catholic orphanage. And while it's true that the film never strays far from the structures and conventions of a TV movie, it should also be noted that CTV's Sunday film negotiates all the plot points of the redemptive weepie with uncommon bravery, taste and intelligence.
The casting of Sheldon Kennedy, for instance, is especially inspired. In the role of young Sheldon, newcomer Noel Fisher captures a dreamy, lost kid's vulnerability and hopefulness. And Jonathan Scarfe (ER) offers a probing, focused portrait of Kennedy as an adult, expertly conveying the star athlete's thinly veiled anguish with a skittish bravado that inevitably trails off into a worried laugh.
Robert Wisden is equally persuasive in the role of Graham James, playing the amateur hockey coach as an affable, conscientious tutor who isn't prepared to accept the existence of his monstrous alter ego. His encounters with Kennedy, particularly in the later stages of their relationship, are particularly sinister and wrenching:
"You're in trouble, Pumpkin," James tells Kennedy after the hockey player has gone to police to lay a complaint against his former coach. "You're afraid people will think you're gay."
"I'm not," Kennedy says, sinking into his chair.
"I know," James responds with something close to compassion. "That's what I love about you."
The film's behind-the-camera creative team obviously deserve credit for the dramatic precision with which the Kennedy-James saga unfolds. Screenwriter Suzette Couture (Love and Hate) has stitched together a nimble, swiftly moving account of the corrosive relationship, keeping all the well-known elements of their story fresh and alive. And director Norma Bailey, who is probably best known for bringing David Adams Richards' novels to the screen, never resorts to a slapshot to drive home her film's dramatic points, thereby allowing us to experience the horror of Kennedy's journey for ourselves.
Perhaps the greatest indication of the success of The Sheldon Kennedy Story is that, even after all the media accounts of the former NHL player's battle against James and the institutional code of silence that protected him, the film still works as a compulsively watchable melodrama. And that the shamelessly corny ending, where Kennedy is delivered from a lifetime of torment by a cheering crowd and the approval of his peers, is every bit as redemptive as the filmmakers intended.
Miraculously, the story that made this country sick to its soul two years ago has been transformed into a triumphant tale of courage and perseverance. Real-life TV movies are seldom as moving and accomplished as The Sheldon Kennedy Story.
CTV is also airing a one-hour documentary of Sheldon Kennedy's battle to win his life back from Graham James this Friday night. Sheldon: A Story of Human Courage features interviews with Kennedy and many of the principals in the story.
Copyright © Southam Inc. All rights reserved.
There have been some auditions during Polly Shannon's eight-year career in film and TV that didn't mean much more than a potential paycheque to the Aylmer-raised actress.
Her audition for The Sheldon Kennedy Story, which airs Sunday at 9 p.m. on CTV, was not among them.

Shannon badly wanted the part of Jana Kennedy, wife of hockey player and child-abuse survivor Sheldon Kennedy. She rearranged her life to accommodate the movie, passing on a trip to Hollywood during the annual actors' lottery known as pilot season in order to appear in the film.

A crucial, demanding part in a much-anticipated TV movie, it may be the juiciest role she's had in a career that has included a stint on the teen melodrama Catwalk, guest roles on series such as Due South and Earth: Final Conflict, and the leads in a couple of less prominent TV movies, including a psychological thriller called The Girl Next Door. The latter role, as a teenager who seduces her older neighbour (Henry Czerny), earned her a Gemini nomination last month.

However, it wasn't the star-making qualities of the part that appealed to Shannon. She felt that she knew Jana Kennedy in some small way. They are almost the same age (Jana is a year younger than the 26-year-old Shannon), and both had been models. The blonde Jana was an L.A. cover girl when she met Sheldon Kennedy, then playing for the Calgary Flames. Shannon had been a teenaged model in Ottawa and, at 17, spent a year on fashion shoots in Paris and Tokyo.

Shannon had never had to deal with anything like the emotional roller-coaster that Jana experienced after unearthing her husband's long-buried secrets about his abusive junior hockey coach, Graham James. But she empathized strongly with Kennedy's difficult revelations from the moment he made them in 1997.

Though Shannon's own upbringing in Aylmer was decidedly artistic -- she put on plays with other members of the theatre school run by her mother, children's scriptwriter Mary Mackay-Smith (Under the Umbrella Tree, Katie & Orbie) -- another kind of culture predominated in the West Quebec community.

"(Aylmer) is a hockey town," says Shannon. "All the people I went to school with played hockey, and some were in Junior A. I really felt this story could have happened to any one of my friends."

And when she read the script for The Sheldon Kennedy Story by Suzette Couture (The City, Million Dollar Babies), everything clicked. "The story meant something, and I don't always get to do stuff that I feel strongly about. ... I knew (Jana's) life a little bit and I felt I could do her justice. I pray that I did."

Sheldon Kennedy's story is, in many ways, Jana's story.

It was she who, after witnessing her husband's erratic behaviour, drew the thorn of his abuse from deep within. And it was she who convinced him to go to the police about James, as much for his own good as that of the boys James was still coaching. Her key role is made plain in the hour-long documentary Sheldon: A Story of Human Courage, which CTV airs tonight at 8 p.m. as a kind of teaser for the movie.

The documentary, in which Jana and Sheldon speak frankly and articulately about Sheldon's experiences, is at times even more powerful than the dramatic film.

The documentary includes interviews with Kennedy's mother, and the families who billeted him when he was away from home, playing for James. However, Couture's script for The Sheldon Kennedy Story, and its direction by Norma Bailey (Bordertown Cafe) emphasize something that is only a subtext in the documentary. The movie is a tragedy that gives way to emotional triumph, but it is primarily a love story.

In the movie, there isn't much love to spare on the hard-scrabble Manitoba farm where Kennedy grew up. In flashbacks we see his father lashing out physically at his youngest son, who has little self-confidence except on the ice.

The unqualified love that Kennedy needs to heel his wounds comes into his life when he meets Jana by chance in a Calgary poolroom. Jonathan Scarfe (White Lies, Madison) is mesmerizing as the incandescent and self-destructive Kennedy, who has turned up the volume on his life so he can't hear himself think.

Jana is swept off her feet by his high-powered wooing and agrees to marry him after only seven weeks despite his tendency to deflect any personal questions. After marriage, Kennedy is still wild and often aloof, but his behaviour becomes really disturbing when Graham James ( Robert Wisden of Da Vinci's Inquest) shows up in Calgary to start a new junior team. James's presence rips away Sheldon's fragile defences, and he find himself at odds with his wife and his hockey club.

Eventually, he breaks down and tells Jana his awful secret. He tells of Graham James's interest in his career as a young teenager and how much that pleased his family. And he tells of the abuse that started at an out-of -town hockey camp when Kennedy was 14.

The story is related in flashback, but not luridly; the fear and bewilderment in the eyes of the young Sheldon (played with keen insight by newcomer Noel Fisher) is itself enough to make most viewers cringe.

Jana urges Sheldon to take his story to the police, but Sheldon is paralysed by the same fear that kept him silent for so long: what if people don't believe him, what if they blame him for submitting to James. It is only with Jana's support that he lodges his complaint, and he needs her love even more when police can't find others to corroborate his accusations. He begins on his own to approach former teammates that he suspects were similarly abused.

In taking a stand, Kennedy's pain is turned into strength. And though, as the documentary makes clear, he is still fighting demons, there is an unmistakable renewal in his life. As his mother says tearfully in the documentary, "We have our son back again."

Jonathan Scarfe had not even heard of Sheldon Kennedy before getting the part. The son of actress Sarah Botsford and actor-director Alan Scarfe, he has lived the past four years in Los Angeles, returning home only briefly to make movies. It wasn't until he started researching the part, and saw tapes of Kennedy on Oprah and Dini, that he got some sense of how powerful the story is.

He says that meeting Sheldon and Jana was the best part of making the film. Last Easter weekend, with a week of shooting remaining, he and his wife and Shannon were invited for a barbecue at the Kennedy home. "It's rare that you meet people in your life like that; I felt I was honored ... to be in their home, because I think they're extraordinary people."

Sometimes meeting the person you're playing can shatter an actor's illusion, says Scarfe. "That's so not the case (with Kennedy). He's such a bright, charming, sweet guy."

Shannon, too, was impressed with what she saw at that dinner, the evidence of the power that had redeemed the couple's lives. "When they were together you saw that love. They had made it through and they had made it through together."

© 1999 The Ottawa Citizen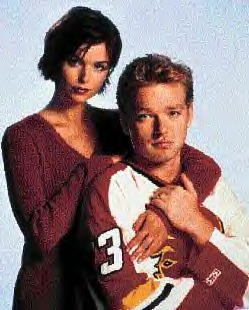 Picture: The Sheldon Kennedy Story, Jonathan Scarfe (right) and Polly Shannon
Friday, October 1, 1999
Sheldon Kennedy, the real one and not the simple-minded character portrayed in The Sheldon Kennedy Story (CTV, Sunday, 9 p.m.) is a fascinating person. He played professional hockey, which is hard enough. But he also found the courage to speak openly about the junior-hockey coach who sexually abused him. And though he was forced by the inhuman rules of junior hockey to leave home at 14, he emerged at the end of his suffering as a warm and engaging spokesman for his cause. The guy did Oprah, and he was good.
He's also something of a screwup. The worst of it may be behind him -- the drugs and alcoholism and self-destructive behaviour that wrecked his NHL career. But even after he came clean about his teenage trauma, its effects lingered: The feel-good side of Kennedy's testimony against pedophile Graham James turned into a series of public-relations nightmares as the ex-player realized he still had some demons to fight.
Kennedy didn't become a role model by sending his predator to prison. Life isn't as tidy as the movies-of-the-week like to pretend. In The Sheldon Kennedy Story, his decision to go public is the climax of the film, and naturally the victory in court is followed by a triumph on ice as Kennedy scores a goal to wild applause. Paradise Lost becomes Paradise Regained with a quick deke and a flick of the wrists.
Nobody wants to watch a TV movie that ends with awkward questions and unresolved troubles. The genre depends on a final uplift that you only get with the ultimate Boys Own Weekly vindication of the puck in the net.
The Sheldon Kennedy Story, written by Suzette Couture, is a frustrating film because it could easily have been so much better. But instead of trying to explain the warring sides of Kennedy's complex personality, which come across so clearly even in promotional interviews, the movie settles for portraying him as an amiable goof. Jonathan Scarfe does Kennedy as a typical hockey hoser: The toothy grin and frantic horse laughs are a straight steal from Mike Myers in Wayne's World.
Sure, it's his character's defence against the world, his happy-face shield that protects him from the memories he's trying to keep at bay. But that's about as deep as the psychological probing gets. And with Kennedy portrayed as a farm-boy simpleton, the entire story starts to fall apart. In almost every scene he's either a half-drunk party animal who hoots and screams his way to a good time, or a wordless sufferer who can't articulate his feelings, only turn them into blind rage and goofy puppy love.
Polly Shannon as Kennedy's ex-model wife is asked to do much less -- basically stare at this crazy guy with either love or concern -- and still she comes across as a more credible character. Yet the real star of The Sheldon Kennedy Story isn't the hero, but the villain, just like in Paradise Lost. Robert Wisden's Graham James, the much-honoured junior coach, is perfectly smug about his exalted status and almost giddy in his pursuit of hockey flesh. His on-ice commands are full of double entendres -- "Make me want you!" -- that will spook ex-athletes everywhere. As for his off-ice seductions, Wisden is horrifying in his levels of expertise, a pedophile Casanova more caught up in the art of manipulation than in any real feelings.
As good as Wisden is -- watch him mess with Kennedy's mind when the police start closing in -- the rest of the film lets him down. Noel Fisher, who plays the young Sheldon, is a non-presence, merely innocence in human form and no foil to the all-powerful James. Though there's more tension between Wisden and Scarfe as the power starts to shift, the writing is too dependent on the made-for-TV formulas to find the drama. This is the kind of film where, when Kennedy's wife walks out on him, James suddenly and conveniently walks in the open door just to torture our hero.
There are points like this where The Sheldon Kennedy Story feels more like a creepy teen slasher movie than the tearjerking epic it's trying to be, right down to the spine-tingling music that's the made-for-TV version of suspense. The horrors of Kennedy's life, sad to say, have been reduced to horror-movie cliches.
Most Canadians already know the cold facts behind the CTV movie The Sheldon Kennedy Story, but it's the emotional heart of the matter Winnipeg director Norma Bailey taps into in the film, on CKY Ch. 5 tomorrow at 8 p.m.
And thanks to outstanding young actor Noel Fisher, 14, the movie succeeds on two fronts; as a moving drama and a revealing portrait of the victim-predator dynamic of sexual abuse.
"It just breaks my heart that he went through this because he's really a wonderful human being," Bailey says of former NHL star Kennedy, whose junior coach Graham James pleaded guilty in 1997 to charges of sexual abuse.
Kennedy says it was during his wife Jana's pregnancy that he decided to seek help because he wanted to avoid following in the footsteps of his father, whose physical abuse is a startling theme in the movie.
Kennedy, who had script approval, says it was painful to include that aspect of the story, but it's crucial because it helps explain why he was so vulnerable when James (Robert Wisden) targeted him as a 14-year-old hockey player in Elkhorn, Man.
"You look at pedophiles in our society and they thrive on kids that are missing something from their home base."
While Fisher elicits sympathy as the young Kennedy, Jonathan Scarfe portrays him as a wild, often boorish teen and adult.
Unlike hockey player Bailey, who donned skates to direct the action in Calgary's Saddledome, Scarfe, 23, had to take skating lessons. And he was "absolutely terrified" to play Kennedy.
"I had played him quite goofy in a lot of scenes. And then I met him and I thought, 'Man, I nailed you.' He's hilarious, a complete cutup."
Kennedy, now retired from hockey, says he's still working on his problems. He hopes the movie will give abuse victims the courage to speak out, so he will speak to viewers after the show to publicize toll-free helplines (Red Cross at 1-888-356-6336 and Kids Help Line at 1-800-668-686 .
In 1997, junior hockey coach Graham James pled guilty to sexual assault. In 1999, CTV aired "The Sheldon Kennedy Story", the story of one man's life after a nightmare of abuse while playing junior hockey under James.
The movie opens with Sheldon as a young adult, and soon segues into his first meeting with future wife, Jana. This sets the scene for the film, both as a romance and a drama about abuse. Sheldon Kennedy was a gifted young hockey player when coach Graham James recruited him as an adolescent, and went on to play NHL, but the memories of his childhood never left him.
The latest in a series of docudramas to come out of Alliance-Atlantis, "The Sheldon Kennedy Story" casts 23-year-old Canadian actor Jonathan Scarfe in the role of Sheldon Kennedy, both as a man in his late teens and early twenties all the way up to his early thirties. Polly Shannon, the quintessential girl next door, plays Sheldon's wife Jana, who loves him enough to stand by him through everything.
As happens with all made-for-TV stories, there is something lost in the translation. Scarfe does an excellent job of playing Kennedy, but there is something missing. Kennedy, as portrayed in the film, just doesn't come across as a sympathetic character. Wisden's Graham James comes across as both creepy and desperate, Shannon's Jana as both loving and tolerant, but Kennedy is only irritating. Were this a horror movie (or murder mystery) rather than a "based on a true story" drama, viewers would be asking for Kennedy's execution.
The true failing of the movie is the "everything that's gone wrong in my life is someone else's fault" attitude of the title character. That was "been there, done that, moved on" in the mid-1990s with Alanis Morissette. Once was enough. The viewer can almost hear "You Oughta Know" playing in the back of their mind as the writers have Sheldon whining about how horrible his life has been. Regardless of what Sheldon may have gone through as a youth, that's no excuse for his behavior as an adult. Unfortunately, one of the constraints of having roughly 90 minutes in which to tell a story is that most is always left out.
That aside, though, the movie is excellently crafted. Jonathan Scarfe proves his talent for taking on a range of character emotions, although so far, he has yet to play a "good" character. In the recent "The Morrison Murders", Scarfe, son of Canadian actors Alan Scarfe ("Mysterious Island") and Sara Botsford ("E.N.G"), plays murderer Luke Morrison. In CBC's white-flop "White Lies", Scarfe plays skinhead-wannabe Ian McKee. In "E.R." (the role which brought Scarfe to the attention of many Americans), Scarfe played Dr. Carter's cousin, Chase, who destroyed his life with drugs. "The Sheldon Kennedy Story" was arguably his most difficult role to date -- Scarfe had only a few weeks to learn how to skate before stepping into "Sheldon Kennedy"'s skates
. Sheldon Kennedy himself makes a surprise appearance at the end of the tape, with the announcement that one out of two girls and one out of three boys will be sexually assaulted at some point in time in their life, and to let viewers know that if they need help, they can call toll-free to the Red Cross (1-888-356-6336) or the Kids Help Phone (1-800-668-686 .
Finally, some TV worth watching.
On Sunday, October 3, CTV aired The Sheldon Kennedy Story. It was an emotionally charged two-hour movie that told the true and compelling story of Kennedy, a hockey player who, with the love of his wife Jana, found the courage to expose the abuse he suffered at the hands of his junior hockey coach, Graham James. Sheldon Kennedy was not the type of person who should have been a victim, especially a victim of a sexual predator. Kennedy was a tough, firey NHL hockey player. He played for the Detroit Red Wings, Calgary Flames and Boston Bruins over a successful eight-year career. But in 1996, Kennedy (then with the Flames), in one of the most courageous moments in modern day sports, filed a complaint with local police that would rock the hockey world.
Kennedy admitted that he had been repeatedly sexually abused by, James years earlier. Kennedy had his former junior hockey coach charged with sexual assault and then held his breathe to see how the fans, the hockey establishment, and players around him would react. After a painstaking three-month investigation, James was officially charged. By year's end, Kennedy was named Newsmaker-of-the-Year by the Canadian Press. The Calgary Flames soon released Kennedy, even after team management promised to "support him in any way possible", but hockey fans graciously accepted him with open arms applauding him for revealing that he in fact was "the pro hockey player who had been abused." (Until then Kennedy had his identity protected from public under a court-ordered publication ban).
As for James, he was sentenced to four-and-a-half years in jail of which he served about half of his sentence before being released on parole several months ago. Although Kennedy was not consulted by the parole board that allowed James back out into the community, Kennedy's main comment about James' release was: "Now that he is out, I hope that he gets the help he needs."
The significance of Kennedy's story is the graphic reality that child abuse is a national problem that knows no limits or no boundaries. If The Sheldon Kennedy Story. had one primary effect, it would be to pronounce that child abuse is an issue that must be addressed by every resident regardless of who we are.
In short, Kennedy's revelation changed the game of hockey in Canada forever. It forced both fans of the game and those not familiar with it to re-examine the facade of pro sports and realize that abuse has boundaries.
At the end of the show, Kennedy himself came on air to urge viewers to help end child abuse in Canada. This writer would graciously urge readers to do the same.
Anthony Hutchinson is a B.S.W. student and Atkinson College Students Association Executive Treasurer.
CALGARY (CP) -- Local victims of child sexual abuse are using art to heal their emotional scars while crafting a memorial to help others.
Seven victims of sexual abuse -- including former Calgary Flame Sheldon Kennedy -- are submitting bronze panels to be included in an ambitious Child Abuse Survivor Monument.
"It's very important for me to move forward from the abuse in the past," said Lenora Southgate, who was sexually abused by a Calgary neighbour between the ages of 10 and 12.
Southgate is crafting a small panel depicting her sources of strength in overcoming the trauma of her abuse.
It will be one of 204 quilt-like squares that will make up a memorial in the form of two large, embracing figures to be unveiled next October in Toronto.
Another 72 squares will be devoted to children's hand prints to be cast in bronze.
"It's being done in the hope others who have had the same abuse experience will know there's a way to heal, that there's lot of help out there," said Southgate.
(Calgary Sun)
Sheldon Kennedy Story Critiques
Author: ophelia99
Date: December 11, 1999 3:55 PM
Subject: The Sheldon Kennedy Story
While I agree that this production followed some typical movie-of-the-week patterns (the almost cloying background music and pat feel-good ending) I have to disagree with J.I.'s claim that the true failing of the film was in its "everything that has gone wrong in my life was somebody else's fault" attitude.
Yes, Kennedy as portrayed by Scarfe (and wonderfully portrayed, I agree) did not always come off likeable, but why should he? Scarfe and the writers did well to portray a man who was more than a stereotype or even an archetype (the anti-hero). He was real and his pain was real. What was done to him was horrible in the extreme and as is common in such experiences, he acted out and it didn't stop once he left adolescence. Of course it had to affect him for the rest of his life and every aspect of his life. I found the portrayal honest in that it showed his anguish as well as his ability for affection and love (towards his wife and later his child) despite the worst kinds of betrayal in that area (through parental abuse and then James').
I didn't see Kennedy's past (or as it was portrayed) as an "excuse" for his behavior -- but rather an attempt to understand the complex ramifications of that kind of breach of trust and plain criminal actions inflicted on a child.
Yes, there's only so much you can go into in a 90-minute film and corners have to be cut. What ended up being shown were some salient features so we can try to understand the impact of that abuse on the life of a child. Kennedy's story is only outstanding because it happened to a high-profile "personality." But what he must have gone through, and still goes through, psychologically, and how they are manifested through actions are common points in most sexual abuse victims. Especially male ones. And as Kennedy himself said (in the film), male sexual abuse is given even less attention than female -- or had been.
If this had not been "based on a true story" but the plot points had still been kept (the fact of Kennedy being sexually abused as a boy), I hardly think I would be wanting his execution, regardless. Blaming the victim for the crime, or casting judgment on somebody (even a character) for reacting honestly to a trauma are not my initial thoughts for wanting a character's "comeuppance."
I've veered slightly off the argument, but alas.
~Karin
Author: Jael
Date: December 13, 1999 1:54 AM
ubject: Re: Movie-Sheldon VS. Real-Sheldon
While I agree that the abuse is horrible (I would not necessarily say "in the extreme" for this particular case), the movie spent more time on Sheldon's generally miserable character. I agree that it can change a person, but the problem was, the character was portrayed as someone who wanted to blame all of his problems on someone else. Whether or not this is Mr. Kennedy as he should be portrayed is irrelevant -- the movie made him out to be a crybaby. Admittedly, I'm a major horror buff (hence my comment that were it a horror movie, people would be cheering for his demise), but my general thought throughout watching the film was, "Oh, please, get over it already."
Abuse is a life-altering event, but most people deal with it much better than movie-Sheldon. Chances are they exaggerated Sheldon in order to make his character seem more pathetic, but as one who has watched people deal with horrible abuse as children (many of it much worse than Sheldon's tale), I didn't take to the character. Movie-Sheldon was screaming, "Look at me! I was raped! Now you have to pity me and give me what I want!" Most abuse victims grow up and move on with their lives. Movie-Sheldon seemed to spend the rest of his life dwelling on that time, and never even made an effort to heal.
"The Sheldon Kennedy Story" should have been, in order to be a better portrayal of the abuse, a three-part mini-series handled by CBC television (rather than CTV -- CBC does documentaries, CTV does docudramas), and should have either focussed entirely on Sheldon and basically had Sheldon PLAYED by Sheldon, or not had Sheldon involved at all. Scarfe is a very talented young actor (like his parents -- and boy, does he ever look like his mom!), but unfortunately, wasn't given a chance to show much range. His character in "White Lies" was more sympathetic, and that had to be one of the most badly written (and most factually inaccurate) movies I've seen in years.
I didn't "blame the victim", I "blame the writing". Putting aside my own personal opinion on the majority of the "I was horribly abused as an adolescent or child" stories that have come out in the nineties, I didn't find it to be a sympathetic portrayal. If it hadn't been "based on a true story", I would be expecting to find a part two, reminiscent of "Boys of St. Vincent", where Sheldon was outted as molesting children himself, and saying, "It's not my fault -- I was sexually molested as a child."
Speaking of BoSV, TSKS could have used some of their writers. That was an excellent docudrama, and unlike TSKS, didn't fall into the "we have to squish it into 90 minutes" category. CTV needed 90 minutes for the abuse story, and 90 minutes for the romance part of it. The problem was that they tried to integrate the two, and, as far as movies go, it didn't work all that well. Of course, and I'll freely admit this, by the time the movie came out, I'd pretty much heard all I wanted to about Sheldon Kennedy. It's like the OJ Simpson thing in the US -- it reaches a point where it just gets monotonous. Most "based on a true story" movies miss some major point -- in this particular movie, the character of Sheldon Kennedy was badly written. If the character (not the person) had redeeming qualities, they were obviously cut from the version that aired on BCTV.
If "The Sheldon Kennedy Story" had been a murder mystery, say, something along the lines of "Perry Mason: The Player Gets Iced", Movie-Sheldon would be the murder victim. If it was a horror movie, he'd be the third guy to get "iced" (the coach being the second, and the "maybe he did, maybe he didn't" guy being the first). If it was a comedy, the sweet guy would have succeeded in winning the love of the fair Jana, while Movie-Sheldon was left out in the cold. Unfortunately, it was a Canadian drama. Sheldon Kennedy was, like David Milgaard, portrayed in the worst possible light when it went on the small screen. (Of course, unlike Sheldon Kennedy, the media portrays Milgaard in a harsher light than the telly ever could.)
Sorry, sort of off on a tangent there. Nice Jonathan Scarfe page by the way. I saw another one a few days ago, but I'll be jiggered if I can remember where.
Jael; Contributing Editor: Canadian Television
(webmistress' note:Jael's opinions are by NO means agreed upon by anyone I spoke to....I think he's alone in the field on that opinion.)
Suzette Couture is Canada's-and probably the United States'-reigning monarch of melodrama and docudrama.
On the set of her television series The City, one of the top writers of miniseries and MOWs bemoans the state of longform drama in Canada. "There's so little longform being done in this country, I think it's shocking." Couture is concerned Canadian television is drifting away from the challenging dramas that galvanized audiences and established her career in the 1980s.
It's ironic, then, that she and her husband and partner Pierre Sarrazin are the executive producers and the main writers on CTV's The City. But she hasn't walked away from longform altogether: she wrote The Sheldon Kennedy Story, the tale of the sexually abused hockey player, set to air this fall. And her mini-series, Jesus, is slated for broadcast internationally next year.
The former comic actor recalls the days when Canadian drama was a turn off for many people, including her parents. "I grew up with a father who held the remote or ran back and forth to the TV in pre-remote days to switch off anything that was Canadian," she says. "But then there were those watershed productions like Anne of Green Gables and Love and Hate. They really attracted huge audiences. If we're not going to continue doing longform here, we're not going to keep the audiences we created 15 years ago.
"I've always felt that there should be an auteur's point of view, that there has to be a voice that tells the story. I love very personal films that don't come from a factory."
Couture's latest effort to keep Canadian longform alive is The Sheldon Kennedy Story. Although initially reluctant to take on such male-dominated subject matter, Couture changed her mind after being charmed and impressed by the charismatic Kennedy. "We sat in the garden at the restaurant in [Toronto's] Intercontinental Hotel for 10 hours. We must have set a record. His leg was all banged up and he was in a cast but he talked non-stop and I filled one notebook after another."
His story lent itself to a conventional, but chilling, tale of childhood abuse. Instead, Couture turned it into an exploration of "an adult man who meets a beautiful woman. They fall in love, get married really quickly and then he starts to think, 'If I don't tell her who I am and what's happened to me, we don't have a future.' Then having told her, he thought everything would be okay. But once you open the door to those memories, you can't close it again."
Sheldon Kennedy, his wife and his mother helped Couture develop the script. Kennedy's mom supplied real life scenes from the hockey player's youth that out-did some of Couture's innovations. Sheldon's wife, Jana, made comments about abuse that were "dazzling and hugely insightful." Kennedy read Couture's first draft and surprised her by "making the most extraordinary comment, which was that I hadn't made Graham James-this is the man who abused him-a good enough coach. He wanted me to make sure that it was clear that children loved him, because he did love the game and made it fun."
Couture has also penned a mini-series on Jesus for CBS in the United States and RAI in Italy. The four hour mini-series features an unknown lead, but stars Gary Oldman as Pontius Pilate and Armin Mueller-Stahl as Joseph. Couture concentrates on the adult life of Jesus, creating a romantic relationship between the young carpenter and Lazarus' sister, Mary, and a warm family life with his mother and Joseph.
A Catholic who has had many moments of doubt, Couture found the process of writing the story intense. She characterized Jesus as a revolutionary who could have challenged Rome "but he was more than a freedom fighter, because he could have taken the power he acquired and got rid of the Romans, but he had a different purpose."
Jesus was easier to finance and produce than Sheldon Kennedy. "To do Canadian (longform) stories and work in Canada now is barely an option," she says. That was hardly the case when Couture began work as a screenwriter 15 years ago. The CBC's television drama department boasted executives like Alan Burke, Jim Burt and Bernard Zuckerman-all of whom were dedicated to bringing Canadian dramas to a wide audience. Couture was in the right place at the right time.
She studied journalism at Carleton University back in the 1970s when its program was second to none in the country. The Ottawa native says she developed a "philosophical disagreement with being a journalist and supposedly having an objective voice while really being interpretative."
Looking for a different outlet, she got into acting after working with theatre people at the university. Then followed a summer with the theatre company of the Yale School of Drama. Several years later, Couture met actor Chas Lawther and started writing and performing with him.
Residents of Toronto in the early 1980s might recall Lawther's performance on CHCH-TV as Chuck the Security Guard who "accidentally" switches on the power in a television station and ends up hosting an All-Night Show. Couture appeared as Lawther's friend on this cult television show. The two were well-known sketch comics during that time, appearing in a slew of clubs and cabarets.
"One of the huge pleasures of working with Chas was writing with him. I'd also done some creative creation plays where basically if you don't create your own role, you have none come opening night. It was quite an intense experience but the enormous surprise for me was to be on stage, saying my own lines, getting laughter and a real response and thinking, 'The idea of a play, written by me. I've done that now, even though it's only one of the pieces in the show.'"
Eventually, Lawther created a one-man show and Couture found herself becoming more interested in writing. Pierre Sarrazin, whom she had met while he was the production manager on a film that Couture acted in, told her a "Norma Rae" story: a group of native women in New Brunswick took over the local band council office. When the CBC didn't bite, she turned it into a magazine article.
A year passed during which Couture began to edge out of her acting career. "I remember being in a wonderful Hrant Alianak play that had maybe no dialogue in it but did have a lot of dancing. It was in a really grungy warehouse. Very few people showed up. It was February. I spent most of the play in my bare feet, in a slip and I started thinking to myself 'What am I doing with my life?'"
While working at Second City some months later, Couture ran into writer-producer Ann MacNaughton who told her that a new regime was taking over the CBC. She encouraged Couture to re-submit her "native woman" proposal to the station's drama department. Producer Alan Burke liked the idea and suddenly Couture found herself becoming a screenwriter.
"When Alan hired me, I literally didn't know what I was doing. I asked him for a script to look at and he gave me I Love a Man in Uniform by John Frizzell. I read it and just about died. I thought it was brilliant. John would actually comment on his own script inside his script which I thought was hilarious and really smart. I thought, 'Can I do this?' It was really inspiring. I've always worked best when I'm competitive and a little afraid. So I sometimes say that I went to the John Frizzell school of screenwriting."
Confronted
SEE Magazine
Copyright © 1999. All Rights Reserved
BY NATHANIEL FAIRBAIRN
Sheldon Kennedy is in the papers again. We all know Kennedy, or think we do. The first time we heard of him, he was a National Hockey League forward who had managed to confront the horror of his past and the fear of negative repercussions, and filed charges of sexual abuse against Graham Jones, his coach while he played for the Western Hockey League Swift Current Broncos. Following his revelations, he was paraded as a hero for his bravery in coming forward with his story.
A survey conducted by The Canadian Press and Broadcast News named Kennedy as Canadas Top Newsmaker of 1997. The Hockey News named him athlete of the year. Kennedys courage inspired hundreds of adults and children to come forward with similar stories of abuse. Then he busted his leg in an all-terrain vehicle accident and his contract with the Boston Bruins was not renewed. Alcohol was rumored to be involved in the crash. Kennedy said he would use the extra time to establish a ranch where abused children could come and find help. It was a noble idea, the best of intentions, and the public embraced him more tightly than ever. The Sheldon Kennedy Foundation was formed. In the meantime, Jones was sentenced to 3-1/2 years in prison.
The next time we heard from Kennedy, in the summer of 1998, he was setting off on a gruelling 136-day, 8,000 kilometre roller-blading trek across our expansive country to raise funds for his foundation. Again he was praised in the media and donations started coming in. It seemed possible that his lofty goal of $15 million might even be attainable. On Aug. 28 while passing through Calgary, a car dealership donated a $100,000 Hummer for his use. The next day while up in Edmonton promoting the foundation, Kennedy crashed the vehicle into a bridge guard rail and left the scene, failing to report the accident for an entire day. He admitted to having had eight beers before climbing behind the wheel. He also admitted the pot that police found in the vehicle was his. He was let off easy, only getting a $115 fine for leaving the scene of an accident. He wrote a personal cheque to the dealership for $25,000 to cover the damages. During an emotional press conference, Kennedy admitted that he had always used booze and drugs to dull his pain. He continued his trek, but the publics embrace was more tentative.
Later still, we learned that Kennedy had actually been paid almost $40,000 during his skate-a-thon by the Sheldon Kennedy Foundation. Paid as an employee. Apparently Kennedy and his family simply couldnt afford to spend half a year roller-blading across Canada without pay. We also discovered that instead of the $15 million target, only $2.2-million was raised.
And then we didnt really hear about him for a while. He was giving hockey another shot, first with the IHL Manitoba Moose and then with a team in the German Elite League. But we didnt really care nothing courageous about that, right? We waited for word on the ranch.
A few days ago, we got the news we had been expecting for a while. The Sheldon Kennedy Foundation was cashing in its chips. Of the $2.2-million raised, it had only around $1-million left. Bad decisions and legitimate but high expenses had taken their toll. What was left was given to the Canadian Red Cross.
This cynical business of the news media is all too often gripped by negativity. We like to make heroes, yes, but we absolutely love to tear them down. Sheldon Kennedy doesnt deserve either treatment. He is likely just a confused man, troubled by a past worse than most, who tries to do the right thing and occasionally fails. His mistakes shouldnt erase his intentions, the $1-million he was able to raise for the Red Cross, or his courage in leading victims of abuse out of silence.
(The following article is a translation of a French article in the October 1990 Quebec Nordiques program, giving an over-view of Joe's junior career in junior hockey. Because of this, it is much more fitting to have it placed here. Due to its author, it was almost left off of this site, but, if one can forget who is doing the writing, it is perhaps the most valuable document that sums up Joe Sakic as a person and player; back then and now)
"Joe, Joe, Joe." The sound reverberated throughout the Swift Current Civic Centre as the wedged-in crowd of almost 3,000 screamed as one for their local hero. Time was running out for Joe Sakic to get one more point, a point which would tie him with Moose Jaw star, Theoren Fleury, for the Western Hockey League scoring championship. Sakic and Fleury, teammates on Canada's National Junior Team -- gold medal winners at the World Championships in Moscow, had been locked in a torrid battle for the point lead for weeks. Fleury, his season over the night before, sat by a radio listening anxiously.
Going into the final game against arch-rival Saskatoon Blades, Sakic has 156 points -- four behind Fleury, the diminutive future star of the Calgary Flames. Though the game meant nothing in the standings, the building was packed, the interest enormous, as Joe sought the coveted scoring title. Teammates were as nervous as the fans, as they tried to help Joe achieve his prize. Sheldon Kennedy and Todd Sceviour, Sakic's wingers, excellent players and normally reliable scorers, were nervous and overanxious, pressing too hard on several tremendous Sakic setups.
The Blades, cognizant of Sakic's position, were all over him, providing precious little room to manoeuvre. Yet over and over again Joe would find the open man and send him in behind the Blade defence. But the puck would not go in the net on this dramatic evening. It became apparent to everyone that if Joe was going to do it this night he would have to do it himself. Changing strategy, Joe began to work himself into the clear; shooting instead of passing. By the end of two periods he had fired two goals, despite the close checking. The crowd was worked to a feverish pitch as the third period began. The score being secondary, all eyes were on Joe, including those of the Blades. Yet, after other close attempts went for naught, Joe scored his third of the evening with about six minutes left. The atmosphere was electric as the clock wound down and as play progressed into the final minute everyone seemed resigned to the fact that Joe had given them a great run that would fall just short. Then, with under 20 seconds remaining, Joe was suddenly alone with the puck at the top of the offensive circle. One step and a flick of the wrists and Joe had his fourth goal of the game and a tie with Fleury. There was no containing the crowd. The applause and the "Joe" chants lasted 10 minutes.
In one respect the four goals was a remarkable achievement, yet in another sense it was just Joe. To those of us who had known Joe from the beginning, this was commonplace. Sakic had set such high standards of performance that anything less would have been a disappointment.
"Joe, Joe, Joe." Like Ali or Pele or Reggie one name is all that is necessary when talking about Joe Sakic. Though not as universally known as those other world famous athletes, in Swift Current there is only one "Joe."
From the time Joe Sakic came to Swift Current to the time that he left we knew that he was something special both on and off the ice. Shy and unassuming, almost to the point where he tried too hard to fit in, Joe matured into a confident yet modest young man. Remembers John Rittinger, the Broncos team president, "Just before the first season started in 1986, my wife Marg came home and said she had just had lunch with some kid by the name of Joe Sakic. She said he was very shy and had considerable difficulty trying to act 'cool'. Joe has come a long way since then, honing both his hockey skills and poise in communication. He left a tremendous impression on the people of Swift Current. We will never forget the last few games Joe was with us when the fans chanted, 'Joe, Joe, Joe.' That was all that was needed to say what we felt. Nobody tried to hide the tears."
John Foster, Public Relations Director of the Broncos, reflects, "Joe was a very shy, unsure individual on his arrival to play with the Broncos. His tremendous skill and leadership on the ice made him a popular fellow off the ice. He was one of the most well-liked players to participate in player appearance. Any promotion in which Joe took part was a success." Not everything went smoothly with Joe, however. Colleen and Frank McBean billeted Joe during his time in Swift Current and know him as well as anybody. They remember a couple of times when Joe was not on top of his game. "Being a B.C. native, Joe was somewhat unused to the rigors of a prairie winter. In his first season in Swift Current we mentioned to him the necessity of antifreeze in his vehicle to protect it from the plummeting temperatures. 'Oh yeah,' Joe assured us, 'I know about that.' When the first cold spell set in we noticed Joe driving up with steam pouring out from under the hood. 'No problem,' he grinned. By the next morning his car was one solid block of ice. It took two days of heaters and tarpaulins to save his car from certain disaster." The McBeans continued, "We used to kid Joe about being thrifty. When he came home with a Pictionary game we were all invited to play. Soon, however, Joe interrupted the game, 'Come on you guys -- don't draw so big. You're using up all the paper!'"
On the ice, Joe was both a rock and a gem. He logged more ice time than an Eskimo. He played every rough situation. He killed penalties, played the power play, took all the big draws, went out at the beginning and end of each period and the closer the game, the more he played. He had the endurance of a triathlete. Besides the fact that his capacity for play was immense, his play itself was extraordinary. Skilled in all phases of the game, Joe was as complete a performer as anyone who has ever toiled in the Western Hockey League. If he got a step on an opposing defenceman, he would take the play straight to the net, leaving the opposition in his wake. His ability to see the play and his passing were as if he had built-in radar. Most impressive, however, was his shooting. He fired bullets both forehand and backhand, slap-shot and wrist-shot, that absolutely froze the goalie. Such confrontations were a mismatch. It was like Hulk Hogan fighting Little Beaver.
But what separated Joe the most from his peers I believe was his determination. He willed himself to perform and play night after night. In a 72-game schedule it is rare to find a player who doesn't slump or go through a lengthy bad stretch. In two years in Swift Current Joe may have played half a dozen substandard games; substandard that is by his criteria. In professional hockey such consistency is more common, in junior hockey it is rare indeed. Joe seemed able to play through any difficulties and to put everything except hockey out of his mind when the puck dropped. On December 30, 1986 our team had a tragic and traumatic bus accident. Four players were killed. Joe himself was sitting in the front seat along with Sheldon Kennedy and both were very fortunate not to be killed or injured. For a 17-year-old kid very little could have been more devastating. Speaking in a cold hockey sense, the four players killed were extremely important to the team. In fact, two of the players were in the top 10 of the league scoring. After regrouping for 10 days the Broncos took to the ice. In the second game back, Sheldon Kennedy, another player in the top 10 of the league scoring and Joe's linemate, broke his leg and was out for the year. At that time the Broncos were fighting for sixth spot and a final playoff berth and were actually seventh in the standings. The team had been ripped asunder and most were just concerned with being able to finish this our first season in the league. But we had all discounted the will of Joe Sakic. His play over that stretch was amazing. Along with the fire and drive of his teammates, Joe performed magic. He ripped the league apart over the last three months playing with new linemates and teammates.
Though Joe was shocked and saddened, he was able to overcome his feelings every time he played. He dealt with the adversity on his own time and terms but never let it interfere with his hockey. Through all of this Joe had to deal with his own fears and feelings regarding the N.H.L. entry draft. Most players feel tremendous pressure because of the draft, yet Joe handled this with skill and composure.
Perhaps because of this quality Joe became the hockey player he is and is so fondly remembered by the people of Swift Current. So many fans appreciated Joe for his ability to play night after night and the trait of being able to keep his head when all around were losing their. Indeed, like mankind itself, it seemed that Joe was at his best when things were at their worst. Just when everything seemed hopeless and the team might go into a spin, Joe picked us up by the bootstraps and got us back on track.
Lorne Frey, assistant coach of the Broncos, remembers such a time in year two of Joe's time with the club, "We were just heading on our annual west coast trip late in January and we had been struggling big-time. It was a make or break time for the hockey club and no eastern team had done well in the west division all year. Our prospects looked dim, but Joe had other ideas. He was everywhere. He did everything. Six games in eight nights in six cities is quite a test, especially for a small non-physical team like ours. But Joe didn't take a backward step. He scored 14 points in those six games, provided inspirational leadership, and helped the team to a 4-2 record on the coast trip, the best of any team in the eastern division. From there the team went on to finish strongly, just missing second place. Joe continued to point out the direction."
Perhaps the most important single game from my perspective was our second game back after the bus accident. We had played well in the first game and lost by one goal. Most people attributed our play to emotion in that game and feared that once that feeling wore off we would be easy pickings. Remember, at the time we were out of a playoff spot in seventh place. We went into Saskatoon to meet the second place Blades in a building where we had never done well. A flu bug had hit the team, forcing us to leave a couple of star players at home, including Danny Lambert, our best defenceman. By the end of the first period we also had lost Peter Soberlak and Tim Tisdale, both top players and future Edmonton Oiler draft picks. At the buzzer to end the first period Sheldon Kennedy blocked a shot, fracturing his ankle. Obviously, among the bus accident, illness and injury, to say nothing of the emotional strain, the team was decimated. We were down to seven forwards and four defencemen. This seemed too much even for Joe, but like a modern day Moses he led us out of the wilderness. He could not be stopped. We won the game 5-3 and Joe got points on all five goals and so got the Blades watching him and off their game; they forgot to beat us. It was a performance which defies description. Marcel Comeau, then coaching the Blades and now coaching the New Haven Nighthawks, though not happy with his own club's play, told me it might have been the best single game performance he had ever seen.
This game was important, not only because it was ultimate Joe but because it proved to our players that we could win and win we did. We went from being out of the playoffs to securing sixth place by 11 points, an unbelievable achievement given the circumstances. Joe won so many trophies it would become redundant to list them all. Our team awards can be omitted but needless to say he needed help to get them home both years. Joe was a league all-star each time he was eligible, both for the all-star games at the halfway point and the all-star team at the end of the year. As well, in his first season Joe was named Rookie of the Year in the W.H.L. eastern division (there was no interlocking play that year so each division had separate winners). He was also named the Eastern Division's Most Valuable Player.
In Joe's second season with the Broncos (1987-8 , he tied for the league scoring lead with Theoren Fleury. He was named the Most Valuable Player in the Western Hockey League and won the Molson/Cooper Player of the Year award for the entire Canadian Hockey League. In other words, he was clearly the best junior hockey player in Canada.
Despite all of the attention heaped on Joe he kept his head and his perspective. Once again Colleen and Frank MacBean recall, "Joe never sought or relished publicity. When he first was asked for interviews he would barely mutter more than a yes or no. By the end of the first season he had developed into a very competent interviewee but his look always indicated, 'I wonder why they are bothering with me?'" Joe never felt or put himself ahead of his fellow players, despite the enormous success he enjoyed. He could have, as many teenage boys who are thrust into the spotlight are wont to do, played the role or acted as though he were special. It didn't happen. As Colleen MacBean says, "Joe would be the first to criticize himself and the last to criticize anyone else. On the rare occasion when his goal-scoring touch failed him he would come home and say, 'Geez - cement hands tonight, Coll.' He knew and I knew that the cement would not be around very long."
Joe was probably the best player taken in the 1987 entry draft, with only Pierre Turgeon being close. The Nordiques undoubtedly made the best deal their franchise had ever made in order to acquire Joe. Here in Swift Current we would like to have seen Joe for one more year but we knew that such was not possible. He had outgrown junior hockey, just as someday, like Gretzky, Lemieux, and Yzerman, he will be looking for a higher league than the one he is in now.
Joe wasn't with us as a 19-year-old and ironically the year after he left, we won the Memorial Cup. Let me correct that. He wasn't with us in body but he certainly was here in spirit. He had shown us how to win, how to overcome adversity, indeed how to live. We would not have won the Memorial Cup, perhaps not even survived as a franchise, without him. He was remarkable. He was incredible. He was Joe.
About the Writer: Graham James is entering his fifth season as General Manager and Coach of the Swift Current Broncos in the Western Hockey League. The Broncos have never missed the playoffs during his tenure. In his first season with the Broncos, James was named Eastern Division Coach of the Year. Year III saw his team win the Memorial Cup and James himself was named Hockey News/Inside Hockey Man of the Year, both for the success of the hockey team and his stand against violence in hockey. Prior to coming to Swift Current, James coached one year in Moose Jaw in the W.H.L., five seasons with the Winnipeg South Blues in the Manitoba Junior Hockey League, and three years in the St. James (Winnipeg) AA hockey system. James, 37, was born in Summerside, P.E.I., and taught school in Winnipeg before becoming involved full time in hockey.

Back To Top