1998....the year for a lot of changes. It was in this year that the name of the Foundation grew to be known as another, more popular name...Anaphe. Anaphe is a goddess in Greek mythology that watches over and protects children. It was perfect.

Sheldon contemplated his next move, and as soon as his leg healed entirely, he was out and about, doing more now than just becoming an outspoken child's advocate. He decided to skate across Canada for the sake of raising awareness of child abuse as well as money toward the ranch. He grabbed his rollerblades and started in mile zero, on May 30th in Saint John's, New Foundland. During the skate, Graham James was released for day parole and Sheldon crashed an expensive Hummer vehicle and left the scene of the crime. He later apologized. Despite controversy about a salary from the skate and that he supposedly didn't skate the whole way, he skated into a rainy Victoria, British Columbia on October 10 at 2:45 PM. They might not have raised anywhere near the amount they had hoped for, but he brought across a message that would be heard across Canada.

In late 1998, he was given a 25-game tryout in the Manitoba Moose Hockey Club. From there, he went across seas to play for Germany's Landshut Cannibals, then returned home to Jana and their daughter Ryan in Calgary.

The list below is by no means complete. If you have something from 1998 to contribute, please email me. You will be credited for your help!
Below are the archives for 1998.
Page 3
Sheldon Kennedy's Newfound Freedom
Kennedy Takes Part in the Martin Kruze Memorial Forum Sunday, 9/27
Passing the Puck on Child Abuse?
Kennedy to Recieve Big Boost From Nike Canada....etc.
Sheldon Kennedy Finishes One Long Skate!
Kennedy Practices on Canadian National Team
Guide to Preventing and Responding to Abuse and Harrassment in Sports
Rainy Day Wrap-Up For Kennedy's Cross-Country Skate
Former Hockey Player Completes Cross-Canada Skate
Former Hockey Player Campaigns Against Abuse
Sheldon Kennedy Returns to Hockey
Sheldon Kennedy Makes Hockey Return
Moose Sign Kennedy to 25-Game Tryout
Sheldon Kennedy on the Road to Recovery
Kennedy Scores Winner for Moose
Donors to The SKF Are Placing Much Trust in the Neophyte Charity


Sheldon Kennedy's New-Found Freedom
9/14/98
The sexually abused former NHLer says his anti-pedo odyssey is on target for $20 million
Sheldon Kennedy strides through the waves of heat rising from the searing asphalt as he skates powerfully down Highway 2, 17 miles south of Red Deer. Dressed in black, his curly hair soaked with sweat, he is surprisingly slim and wiry for a hockey player, as if his five-foot-nine frame has been reduced to little more than grit and knotted sinew. At the Innisfail interchange, he climbs aboard a recreational vehicle, named Anaphe for the Greek goddess of child protection. Preceded by police cars with flashing lights and followed by media vehicles, his motorcade moves through the quiet streets of the town of 6,600, and stops in front of an elementary school. In another 15 minutes, Mr. Kennedy will give a talk about a subject young hockey fans are unaccustomed to hearing from their heroes.
Inside, 700 schoolchildren are seated on the floor of the gym, squirming, talking, poking one another. When Mr. Kennedy walks in, they erupt in applause, and then grow silent. "I'm here to make Canada a safer place for kids," he begins. "Not through a pill, but through communication and education. I decided to do it because I played hockey my whole life, and when I was on a junior hockey team, my coach hurt me in a way a lot of people don't understand. It made me confused. Now I'm speaking to all kinds of kids; I want them to know that even if they're a little kid, we all have the right to ourselves. Ourselves is a place where we have control. You can say no. If things ever feel uncomfortable, you have the right to say no."
He pauses to survey his audience. "I wish I'd been sitting in this gym a long time ago and had someone tell me about child abuse," Mr. Kennedy continues. "I was touched and abused as a kid. You feel kind of weird inside. You don't want to tell someone; you feel dizzy in the head. But you have to talk to someone. That's how to make yourself feel better. It's no fun if you're out playing and feel dizzy, like you don't belong there. You can fix that by talking to others. Go home; ask your parents questions, see if they can explain child abuse. And when I come back, maybe next year, you can ask me all the questions you want."
Mr. Kennedy has been raising awareness about sexual abuse at every opportunity since he began his gruelling 3,000-mile skate across Canada. He began in St. John's, Nfld., on May 30 and is scheduled to dip his in-line wheels in the Pacific Ocean in Victoria on October 11. Now 28, the former National Hockey League player was sexually assaulted hundreds of times between the ages of 15 and 20 by Graham James, a homosexual who was his coach while he played junior hockey with the Swift Current Broncos of the Western Hockey League. In 1997, James was sentenced to 3-1/2 years in prison after he pleaded guilty to two counts of sexual assaults on Mr. Kennedy and another young player.
Mr. Kennedy's decision to break his silence and name his predator encouraged other hockey players to do the same. He found the courage, he says, on the day 2-1/2 years ago when a doctor placed his newborn daughter in his arms. "When you're abused, you lose the ability to love and trust," he says. "When I held my daughter, I felt an automatic connection I'd never felt before. I couldn't stand the thought of something like this ever happening to her. And I thought maybe I could make a difference."
Since revealing the secret he carried with him for a decade, Mr. Kennedy has found the greatest difference in his life is a sense of freedom: not just freedom from control by his predator, but also freedom to think. He now divides his life into "before" and "now." "Before, I never allowed myself the opportunity to think because I thought of all the wrong things," he says. "I didn't want to look at my feelings. Now I know how I feel, and it's kind of neat to feel. I've lived a pretty lonely life. Now I know when I'm tired and hungry. I never felt hunger before, my mind was going so fast. I just used to eat one meal a day, late at night."
Mr. Kennedy's future may even include a return to the NHL after a season away from the game. He has never been in better shape, he says, and the Edmonton Oilers have extended an invitation to their training camp. "Before, I didn't enjoy hockey. The fun was taken out of everything in my life. Before, I never got in shape, didn't lift a weight or hit an exercise bicycle. Now I'd go at hockey in all the right ways."
He says if children in sports are to be protected from child abuse, screening measures for coaches need to be intensified. "If a coach was gay, he wouldn't have a problem with saying it. But if he were a pedophile, he wouldn't admit he was gay." The best way to protect children, he believes, is to educate them.
Small changes in how coaches are recruited can make a big difference, says Brenda Gallagher of Volunteer Canada, an organization developing a national screening campaign for volunteers. "When recruiting, for example, do you stand on the field and shout desperately, 'We need help' which happens a lot, or do you hand out flyers with a little note on the bottom, 'Please be aware our organization has screening procedures for volunteers'?" she asks. "It makes people think twice. The evaluation process, spot checks, interviews with parents and athletes should never stop."
Meanwhile, with the knowledge that 96% of pedophiles reoffend, Reform MP Eric Lowther is proposing to amend the Criminal Records Act and the Canadian Human Rights Act. If the amendments are approved by Parliament, authorities will be able to investigate the background of anyone who has been convicted of a sexual offence, pardoned, and subsequently applies for a position of trust with children.
Later in his day in Innisfail, at a reception organized by Mr. Kennedy's former Swift Current teammate Jeff Denham, hundreds turn out with good wishes and donations. When he left St. John's, Mr. Kennedy had hoped to raise $15 million to $20 million to finance the development of a 640-acre ranch in B.C. as a retreat for abused children and their families. With 75% of the tour completed, he has raised $3 million. "We're right on target," he states confidently. "Ninety percent of the $28 million [wheelchair athlete] Rick Hansen raised came during the last 5% of the campaign and for two years after."
Mr. Kennedy plays an invaluable role in helping abused children heal, says Sue Hunter, executive director of the Toronto Child Abuse Centre. "When he comes here, he just plunks down on the floor with the kids [in the crisis support program] and lets them ask questions: 'Were you afraid to go to sleep at night?' 'Did you have nightmares?' 'When you told, did you get in trouble?' Sheldon is giving the country many gifts."
Though it might have been easier for Mr. Kennedy to remain a victim, he has instead seized control of his own life. "For far too long I was not living the life I wanted," he declares. "But there's nothing you can do about the past, only the future. I've never been one to feel sorry for myself. You just have to work hard and be determined to get better."
-- Candis McLean
-Alberta Report
8,000 KM or Bust-ed
September 25, 1998
After a disgracing auto accident and admitted drug possession, former NHL pro Sheldon Kennedy presses on to finish his cross-Canada skate.
Sheldon Kennedy is interviewed in front of a crowd at one of the many stops on his cross-Canada skate.
With 7,000 kilometers and three months under his belt, everything seemed to be going according to plan for Sheldon Kennedy as he closed in on his goal of becoming the first person to skate across Canada. But that was before the totaled Hummer, the drug possession and the fine for leaving the scene of an accident.
On September 11, Kennedy was supposed to be focusing on his toughest challenge yet, the grueling vertical climbs of the Rocky Mountains. Instead he sat slouched at a press conference as he read a statement asking for forgiveness and understanding. Kennedy admitted to crashing a Hummer into the guardrail of an Edmonton bridge on Aug. 29 after a night of heavy drinking. He also said that the marijuana found in the vehicle was his.
It was a sad bump in the road for Kennedy -- a former NHL player for the Detroit Red Wings, Calgary Flames and Boston Bruins -- who set out from the Atlantic shores of St. John's on May 30 to begin a well-publicized attempt to cross Canada in order to raise awareness for child abuse. Kennedy himself was sexually abused as a youth.
"I am deeply disappointed in my actions in Edmonton, and I apologize to my family, my friends, my foundation and the thousands of supporters of my foundation," he told the assembled members of the media. "More importantly, I sincerely apologize to all the Canadians who need me the most -- those that have been abused -- and I ask you for forgiveness."
Kennedy left the scene of the accident, which occurred at around 3 a.m. on August 29, without notifying the police. He later was issued a $115 ticket for failing to report the accident, which caused $20,000 damage to the Hummer.
The accident and the police charges were publicized only when the Edmonton Journal broke the story on the morning of September 11, the day that Kennedy called his press conference. The news startled Canadians, many of whom had been hailing Kennedy as a hero, and thousands of whom had lined roads in recent months to cheer Kennedy as he skated past.
In spite of the Edmonton accident, Kennedy is finishing his Atlantic-to-Pacific skate as scheduled, slated to end on Oct. 10 when he reaches Victoria, the capital of British Columbia. Last week, he rolled over the eastern border of British Columbia and into the Rockies, entering the last and most difficult of the 10 provinces he has rolled through along the TransCanada Highway.
"Today I've got a three-mile hill, and it will probably be very hilly for the next 900 kilometers until the finish," Kennedy said while at a stop at Golden, BC, just east of Glacier National Park. If all goes well, he will travel approximately 8,000 kilometers (nearly 5,000 miles) in 136 days.
As he pushes himself to overcome the recent controversy and to complete his arduous journey, Kennedy is skating with a purpose born of a longer, more difficult struggle. In January of 1997, the eight-year NHL veteran publicly revealed that he had been sexually abused by his junior hockey coach. Kennedy also admitted that in the past he had used alcohol and drugs to numb the pain of the abuse and its lingering memories. It was a huge story in Canada. Building on that publicity and on his hockey fame, Kennedy decided to use his skating skills to make an impact outside the rink.
"I was looking over the list of Canadian newsmakers of the year," said Kennedy, 29, who was given the Canadian Press-Broadcast News title for 1997. "I saw Rick Hansen, Steve Fonyo, Terry Fox. And I saw my name and realized that all I've really done is help myself. But I wanted to do more for others."
In the 1980s, Fox and Fonyo, both of whom had lost legs to cancer, attempted to jog across Canada with artificial limbs. A few years later, Hansen, who had suffered a spinal cord injury, spent two years riding his wheelchair across parts of every continent.
Kennedy decided to follow in their tradition by skating across Canada for the sake of the issue that had lifted his name off the sport pages and landed it on the front page. Kennedy's mission is to heighten awareness and understanding of child abuse, while raising funds to create Anaphe Ranch, a treatment and research center where children who suffered sexual abuse will receive comprehensive medical and psychological care.
Kennedy has urged all Canadians to join in his mission by skating, biking, running or walking with him as he passes through their towns. Crowds ranging from a few hundred to 5,000 have greeted Kennedy along his route, and fans have continued to lend their support in the week since the accident story broke.
All along the way, the five-person skate team accompanying Kennedy has organized publicity events and collected donations for the Sheldon Kennedy Foundation, which the skater and his wife, Jana, established last year. The skate has so far raised close to $3 million Canadian dollars, with a goal of raising a total of $15 million. The money will be the primary source of funding for Anaphe Ranch.
According to Anthony Kalcounis, a spokesperson for the Sheldon Kennedy Foundation, while Kennedy has received some large donations from corporations and organizations, most of the money has come from private citizens along the route. Many of these supporters have simply handed cash to Kennedy or other members of his skate team.
Along the way, Kennedy has participated in local school events, skate-a-thons and hockey clinics. In the major cities, Kennedy devotes a few days to publicity and fundraising activities, focusing on sporting events, which he feels are the best forums to reach kids. Kennedy has dropped the puck at ice- and roller-hockey games and was in Detroit on June 11 for Game 2 of the Stanley Cup playoffs. In Toronto, members of the Maple Leafs skated with him. And in Montreal, Kennedy threw out the first pitch at an Expos-Blue Jays game.
During Kennedy's most recent big-city stop, he spent four days in Calgary, where he lives with his wife and two-year-old daughter. Kennedy raised close to $300,000 in the city, which is also the home of his foundation's headquarters.
Just after leaving Calgary, Kennedy skated into Radium, BC, not a large town but a significant stop on his journey. A 640-acre parcel of land in Radium will be the site of the Anaphe Ranch. The land, estimated to be worth $600,000, was donated by Steven Funk, Chairman and CEO of the Canadian Maple Leaf Financial Corporation and an old friend of Kennedy's.
The skate's emotional high point for Kennedy came on August 11 when he skated into the Western Manitoba town of Elkhorn -- population approximately 500 -- where he grew up on a farm. "There were about 1,000 people out there, the reception was really great, it was very overwhelming," Kennedy recounted. "You get involved in something like this, and you don't realize the difference you're making, but it really hit home there."
Kennedy averages 94.4 kilometers (58 miles) per day and is zipping along at an average speed of 35 km/hr (22 mph), according to Kalcounis. He rotates three pairs of donated Salomon Custom TR skates and goes through about one set of bearings and one set of Hyper wheels per day.
When Kennedy made the decision at the end of last year to skate across Canada, he wasn't even able to put on a pair of skates. In June of '97, Kennedy broke his femur in nine places when he rolled the ATV he was riding. He was out of any kind of action for most of the year. Starting in February, he worked with a personal trainer, lifting weights and undergoing therapy to get his leg in shape. From the time of his accident to the day he began his cross-country journey, Kennedy skated just twice, he said. But skating skills were his strength during his NHL years and Kennedy has been inlining since the first pair of Rollerblade skates hit the market in the '80s.
Kennedy said the skate has been more physically challenging than he had imagined. During a grueling, week-long stretch over desolate, rugged terrain in Northern Ontario, temperatures reached close to 100 degrees, while winds of up to 50 km/hr (31 mph) blew in Kennedy's face.
Between the rigors of the skating and the trauma of the accident and its aftermath, Kennedy's trip has taken its toll. It feels good to have come so far, he said, but he's beginning to fatigue. "I'm getting a little tired," he said. "I'm worn out all over, physically and mentally, just kind of drained."
And what does he want to do after he finishes his lengthy trek. "I'm absolutely looking forward to jumping into the Pacific Ocean," he said.
-- skating.com
Sheldon Kennedy Takes Part in the Martin Kruze Memorial Forum Sunday, 9/27
Calgary, Sept. 25 /CNW/ - Sheldon Kennedy will take part in a two-day forum at the Maple Leaf Gardens in commemoration of Martin Kruze. The purpose of this forum is to provide the opportunity for the general public to learn more about community safety and to join the fight in the prevention of child abuse.
Sheldon will host the opening ceramonies on Sunday, September 27, at noon in the Maple Leaf Gardens. Ken Dryden, a strong supporter of Sheldon, and President and General Manager of the Maple Leafs Hockey Club, is "proud to stand behind this important event. During the past year and a half, Maple Leaf Gardens has become aware of the devistating effect child abuse has on our families and community."
The forum will include multiple information sessions and seminars for parents and their children, adult survivors and their freinds and familes, and anyone interested in becoming more educated about a problem that is rampant in today's society. Ellen Campbell, Executive Director of the Canadian Centre for Abuse Awareness believes "it's time for us all to show our support for the survivors of child abuse, and at the same time, educate the public so that it can be provided."
Sheldon looks forward to taking part in a forum that exudes his own mission and dream. This forum is another step in making "Canada the safest place for our kids."
FOR MORE INFORMATION ON THE MARTIN KRUZE FORUM: www.kidshelp.sympatico.ca
-- Canadian Newswire

Passing the Puck on Child Abuse?
10/1/98
BY NATE HENDLEY
Long-haired and amiable, Sheldon Kennedy looks more like a grunge guitarist than a hockey player as he stands near rinkside at Maple Leaf Gardens. The former Boston Bruins forward and child abuse survivor is here to add celebrity presence to a sparsely attended memorial forum for Martin Kruze, the young man who exposed the existence of a pedophile ring at the Gardens. On Oct. 30, 1997, Kruze jumped off the Bloor Viaduct and ended a rather pathetic, confused life.
Today Kennedy, dozens of sex abuse experts and a few hundred members of the public have gathered to remember Kruze. Not that many people I spoke to could offer any personal recollections.
"I never met Martin Kruze," Kennedy admits, "other than when I was on the Oprah show with him."
Former Montreal Canadiens goalie and current Maple Leaf president Ken Dryden stands at the centre of the Gardens, looking slightly uncomfortable. Dryden says he was "not aware of sexual abuse issues" when he was playing minor-league hockey around the GTA in the '50s and early '60s. "You didn't think of that back then. You were looking in a different direction ... you thought adults weren't like that."
"When you get a prominent building like Maple Leaf Gardens and a prominent figure like Ken Dryden talking about an issue that's not talked about much, it's good," says Kennedy.
"There's no question that celebrities -- and sports celebrities in general -- bring people in," says Sue Hunter, executive director of the Toronto Child Abuse Centre, which had set up a booth in one of the Gardens' hallways. "There's a tremendous response in our society to celebrities."
Not that tremendous; the memorial has a pretty meagre turn-out compared to any game or concert I've attended at the Gardens.
Hunter says the memorial forum's hockey angle demonstrates that "boys can get abused too -- childhood sexual abuse is not just a girls' problem."
On the second floor of the Gardens, Jim Charboneau presides over a display of Etobicoke's Gatehouse project. Gatehouse is a newly established residence with a big audiovisual centre where abuse survivors can "give testimonials in an environmental that isn't intimidating."
Charboneau, events co-ordinator for the Gatehouse initiative, disagrees with Hunter, complaining that the memorial's "hockey focus tends to make [childhood sexual abuse] look like a boy thing."
According to the Children's Aid Society of Metropolitan Toronto, one in eight boys and one in four girls is the victim of sexual abuse before the age of 18. As monstrous as Graham James, the junior coach who molested Kennedy, and Gordon Stuckless, the Gardens employee who diddled Kruze, are, their examples aren't typical.
While it's good that Kruze's suicide and Kennedy's coming out as a survivor of abuse got people talking about the problem, their actions might shift attention from the real issue at hand.
Ten years ago, a bizarre hysteria about ritualistic satanic abuse at day care centres swept the United States. TV specials covered the issue, court trials commenced and many lives were ruined before it was discovered that satanic abuse was a myth and that kids were more likely to be molested by their moms and dads than occultists.
Sexual abuse in sports isn't a myth, but Canadians run the risk of repeating America's hysteria and redirecting the focus away from the real culprits behind kiddie molestation.
The Children's Aid info states that in 1993, the society investigated 1,235 cases of physical abuse and 1,081 cases of sexual abuse. The same year, the society acted as substitute parent for 2,546 children in care. Kids don't become wards of the state because of something coach or teacher did, but to get away from their families.
None of which should be used to knock Kruze, who did force Gardens brass to recognize they had perverts in their midst, or Kennedy, who overcame locker room machismo to tell his survivor's tale.
Upfront and personable, Kennedy seems pleased by the day's events, but uncertain about his role as sex abuse survivor figurehead.
"What if I came out and wasn't in the NHL?" Kennedy asks, in response to a question. "I'm not sure what that would be like. What if I was a girl?"
PUTT FOR DOUGH: The Leafs raised $55,000 for their minor hockey fund and the Sheldon Kennedy Foundation during Tuesday's charity golf tournament in Stouffville. As part of the event, the team held a hardest shot competition with a road hockey ball. Todd Warriner won with an average speed of 103 m.p.h. But the hardest drive of the day belonged to Curtis Joseph, who unleashed a 105 m.p.h. drive.
-- cmt canada
Attention News/Assignment Editors:
Media Advisory & Photo Opportunity - Sheldon Kennedy to receive big boost from Nike Canada, the Forzani Group and the Vancouver Canucks
VANCOUVER, Oct. 9 /CNW/ - To celebrate the completion of Sheldon Kennedy's cross-Canada in-line adventure, Nike Canada, the Forzani Group and the Canuck Foundation will present the former NHLer with a $50,000 cheque at GM Place on Monday, October 12th. Hockey fans are expected to witness the presentation which is scheduled to occur during the first intermission of the Vancouver Canucks' season opener.
Over the past five months, Kennedy has skated across each of Canada's ten provinces raising money to build Anaphe Ranch, a safe haven for victims of child abuse.
"We're not just here to raise money," Kennedy said, "we're here to educate Canadians and build awareness. Child abuse will not go away until people start talking about it and acknowledging it's happening. Nike, Sport Chek and the Vancouver Canucks have all stepped up to help me with my quest. I am sincerely thankful for their dedication and support."
Aside from donating product to Kennedy and his skate team, The Forzani Group has also sold Sheldon Kennedy's Nike Tour t-shirts coast to coast through its Sport Chek stores. Ten dollars from every t-shirt sale has gone directly to the Sheldon Kennedy Foundation.
"Sheldon has taught us that child abuse is an issue that affects all Canadians," said John Forzani, CEO of the Forzani Group. "We're proud to support his efforts and commend him on his achievements."
Leah Pells will be presenting on behalf of Nike and Steve Tambellini, President of the Canuck Foundation will represent the Vancouver Canucks.
Sheldon Kennedy Finishes One Long Skate!
October 13, 1998
It was a tired but triumphant Sheldon Kennedy who greeted kids of all ages Monday at a windup party for his cross-country in-line skate to raise awareness of child sex abuse.
The former National Hockey League player hosted the free party, complete with a live band and an inflatable rock-climbing wall, before heading home to Calgary to recover from his 8,000-kilometre journey.
"I'm going home and going to chill out for a while, just relax," said Kennedy. "It was an emotional journey, that's for sure."
The eight-year NHL veteran laced up his in-line skates May 30 and set out from Saint John's, Newfoundland, with two goals - to raise awareness of child sexual abuse, and raise $15 million for a ranch retreat for child victims and their families.
Although he did manage to raise awareness, he fell far short of raising the money.
Kennedy only managed to raise $3 million towards building Anaphe Ranch, which he hopes to build near Radium, British Columbia, among the snow-capped peaks of the Rocky and Purcell Mountains.
The cross-country journey has had its ups and downs for Kennedy.
He admitted drinking several beers before crashing an expensive Hummer off-road vehicle in Edmonton in late August. He caused $25,000 dollars worth of damage. He also admitted that marijuana police found in the vehicle belonged to him.
Sheldon Kennedy turned the hockey world upside down last year when he came forward to reveal he was repeatedly sexually abused by Graham James, his junior hockey coach when he played with the Swift Current Broncos in Saskatchewan. Kennedy was a teenager at the time. Graham James admitted to the abuse. He is currently serving a prison sentence. Rainy weather didn't dampen the excitement for the kids who met Kennedy on Monday.
For Anthony Nguyen, 12, it was more than just fun and games.
"It's kind of him to really care about people," said Nguyen, who knew all about Kennedy's cross-country journey to raise money for abused children. "Once, that happened to him, so now he's going to raise money for a foundation and charity."
To Astrid Hiltner, who brought her three children, Kennedy is a hero.
"I think he's done a lot to raise awareness of his cause," she said. "It's a cause people don't discuss a lot and ... it's becoming more public and I think that's really good."
Kennedy has said he will try to return to the national league. His NHL career ended in 1997, when the Boston Bruins did not re-sign him after he suffered a broken leg in an ATV (all terrain vehicle) crash.
Sources: Canadian Press, Vancouver Sun, CBC radio news
-- CBC 4 kids

Kennedy Practices With Canadian National Team
20:54 EDT, Monday, October 26, 1998
CALGARY, Alberta (AP) -- Sheldon Kennedy returned to the ice Monday, practicing with the Canadian national team as he attempts to resume his interrupted NHL career.
"I felt pretty good out there," said Kennedy, who earlier this month in-line skated across Canada to raise money for his proposed ranch to help sexually abused children. "For me, the eight years I played pro was never fun, I never enjoyed it.
"It was really weird (Monday) because it was fun and I was enjoying it."
Kennedy, 29, went public early last year with his story of sexual abuse at the hands of his junior hockey coach. Graham James was convicted of abusing Kennedy and received a 31/2-year sentence. James was granted day parole last week.
Kennedy said Monday he's enrolled in a substance abuse program to help him get back to the game he loves.
"I've joined the National Hockey League Players' Association health program," said Kennedy, who tearfully admitted last month to drinking seven or eight beers before being involved in a vehicle accident in Edmonton in late August.
"This is just another step. I'm looking forward to giving myself a good opportunity to get back (to the NHL). There was never a problem with the tools, it was always the tool box and if we can straighten the tools in the tool box I'll be all right."
Kennedy said he was extremely nervous coming to the rink on Monday because he didn't know how the national team players would react to him practicing with them.
"It was good, but they were probably as nervous as I was," he said after the two-hour practice.
Kennedy last played in the NHL for the Boston Bruins in the 1996-97 season. He broke in with the Detroit Red Wings and then was traded to the Calgary Flames.
His career was derailed not only by the abuse trial but by breaking a leg in nine places when he flipped an all-terrain vehicle in the summer of 1997.
Earlier this month he completed his nearly 5,000-mile skate across Canada to raise money and awareness for Anaphe Ranch, a sexual abuse treatment center he hopes to build in central British Columbia.
"My whole career, ever since I ran into Graham James, people would say: `Geez, Sheldon if you only took care of yourself you could be a great player,"' Kennedy said.
"People were always wondering why I didn't do anything to make myself better. If I take care of me, I know I can play."
Kennedy had 19 goals and 11 assists with Detroit in 1992-93, playing on the fourth line with tough guys Bob Probert and Joey Kocur.
"I had quit drinking for four months that year. When I get spinny and get all worked up about (the James) issue I have to find other ways to deal with it, instead of running for a beer or a joint," he said.
Kennedy, who was also found with marijuana in the Edmonton crash, said he went through drug and alcohol rehabilitation programs on several occasions during his NHL career.
"But I wasn't ready, I had to deal with the big issue," he said.
He said he wants to show himself that he can be a quality NHL player.
"As a kid you always have the dream of playing in the NHL and my dream was fogged out by not being happy. I made it to the NHL and I didn't like it," he said.
-- total hockey (defunct)
Slats Cool on Kennedy
Wednesday, October 28, 1998
By ROBERT TYCHKOWSKI -- Edmonton Sun
Glen Sather wishes Sheldon Kennedy the best of luck in his NHL comeback attempt, but he won't be sending him a contract offer in the mail.
The Oilers GM said a few months ago he'd be willing to extend Kennedy a training camp invitation, but that was then and this is now.
The team is picked. The minor-league affiliate is stocked. There's no room at the inn.
TSN reports suggesting Edmonton is pursuing Kennedy are off base.
"I haven't talked to him and he hasn't called me," Sather said yesterday.
"Our team is pretty well set. We just don't have any space at this time. I don't see that after this much time away that he has much of a chance to play here. And we have plenty of guys in Hamilton."
Sather said Kennedy needs to latch on with an IHL club and work himself back into NHL form. Then, as an unrestricted free agent, he could warrant some interest.
"Who knows what will happen down the line?" said Sather. "We'll watch him."
Head coach Ron Low dedicated most of yesterday's practice to special teams. He's searching for more production on the power play and desperately needs improvement on penalty killing, which ranks second-last in the league.
"We haven't scored a power-play goal at home at that likely cost us the first two games," he said. "We struggled a little bit with that in the first half last year and it cost us a lot of games. We have to get better at it and we have to get better at it quick."
Practice went well.
"The penalty killing was awesome, I think we only scored one power-play goal," he said. "Hopefully it wasn't just because of the inability of our power play."
Talk about a hurtin' unit. The Caps are without Sergei Gonchar, Joe Reekie, Michal Pivonka, Richard Zednik, Brandan Witt, Tom Chorske, Steve Konowalchuk and Jaroslav Svejkovsky.
Easy mark, right?
"I don't care about that at all," said Low. "I remember Anaheim coming in here all banged up last year. We lost 5-1. I don't think banged up has anything to do with it. After all, these guys were in the finals last year, weren't they. We have to worry about our own game, not theirs."
-- canoe
Guide to Preventing and Responding to Abuse and Harrassment in Sport
Copyright © 1998 CBC All Rights Reserved
A guide to preventing and responding to abuse and harassment in sport and recreation.
Prepared by: Abuse & Harassment Committee - Policy and Procedure Team Geraldine Dowling, Yvonne Blanchard, Dawna Ring, Debby Smith, Barbara Klass, Pam Kidney
October 28, 1998 - DRAFT IV [R]
Introduction
Abused, afraid, alone.
He went on to play in the National Hockey League, but years ago, that was Sheldon Kennedy. He was a young teenager with a dream which sadly turned into a nightmare. More than 350 times, Graham James, his Junior A hockey coach, sexually assaulted him, abusing his position of trust and power.
Sheldon Kennedy was afraid and he was alone. While he was just another young hockey player, his coach was loved by everyone - the hockey association, the community, the press and even Sheldon Kennedy's parents.
By the time he made it to the NHL, Sheldon Kennedy no longer enjoyed the game that was his livelihood. The abuse robbed him of his love of the game, it almost robbed him of his life. His self-esteem shattered, Sheldon Kennedy no longer cared whether he lived or died. After his weight plummeted, his wife took him to the hospital where, for the first time, he disclosed the abuse he had experienced.
Even as an NHL player, Sheldon Kennedy found it difficult to convince people that he had been abused. Now, as he works to protect other children, he wonders how a 13-year-old can possibly talk about and escape the abuse without help from all of us.
The story of Sheldon Kennedy is one of serious abuse. But all forms of abuse and harassment, including physical, mental and emotional abuse, are devastating. They affect self-esteem and confidence and can lead to eating disorders, alcohol and drug abuse and future abusive relationships.
Abuse and harassment occur everywhere in our community - sport and recreation are no exceptions. This is a reality against which we can, must, and will take action. This report supplies some of the tools needed to banish this problem from sport and recreation. It also spells out a process for dealing with abuse and harassment when it has not been prevented.
Sport and recreation must always be safe places for children to play and have fun. Our goal is to make that the case for everyone entering sport or recreational activities at any level in our community. We welcome you to share that goal with us.
Due to the rather large file size, we have put the rest of this guide in HTML format in a downloadable ZIP file in the interest of conserving limited server space. If you would like to read the guide in its entirety please follow the link below.
-- Sports Nova Scotia
Rainy Day Wrap-up for Kennedy's Cross-Country Trek
10/98
VANCOUVER (CP) -- It was a tired but triumphant Sheldon Kennedy who greeted kids of all ages Monday at a windup party for his cross-country in-line skate to raise awareness of child sex abuse.
The former NHL player hosted the free party, complete with a live band and an inflatable rock-climbing wall, before heading home to Calgary to recuperate from his 8,000-kilometre journey.
The eight-year NHL veteran laced up his in-line skates May 30 and set out from St. John's, Nfld., with two goals -- to raise awareness of child sexual abuse along with $15 million for a ranch retreat for child victims and their families.
More than four months later, Kennedy is about $3 million closer to his dream of building Anaphe Ranch among the snow-capped peaks of the Rocky and Purcell Mountains.
Canoe
Kennedy: I know I Can Play
Tuesday 27 October 1998
Abuse victim back on ice to resume hockey career
Gyle Konotopetz & Mike Sturk, Calgary Herald
For two glorious hours Monday morning, embattled former National Hockey League player Sheldon Kennedy found his peace of mind.
Kennedy found it in a rink.
Eighteen months after last being on skates, with the Boston Bruins, Kennedy launched a comeback in a training session with Canada's national team at northwest Calgary's Father David Bauer Arena.
"It has never been the tools," a beaming Kennedy said as he leaned on the boards after a gruelling two-hour workout.
He tapped his helmet.
"It was always the toolbox."
Since Kennedy last played in the NHL, his battles have been off the ice in dealing with the baggage of being a victim of sexual abuse.
In 1997, Kennedy went public with his story of abuse from former coach Graham James as a teen.
On Jan. 2, 1997, James was sentenced to 3 1/2 years in prison for sexually abusing Kennedy and another Western Hockey League player hundreds of times from 1984 to 1995. James received day parole last week.
Kennedy felt rejuvenated after the first small step in his attempted comeback to the NHL, feeling like a wide-eyed rookie again.
"If I take care of me, I know I can play," said Kennedy.
Jeff Jackson, Kennedy's agent, said Monday that three teams -- the Calgary Flames, Edmonton Oilers and Toronto Maple Leafs -- have expressed an interest in watching his comeback. Kennedy does not plan to join the national team but is hoping to start his comeback in earnest with a minor pro team.
"Man, that was fun," gushed the 29-year-old, a right winger who has played 310 games with the Bruins, Flames and Detroit Red Wings. "I was real nervous driving to the rink today. I felt like I needed a chair to push around the ice."
"It was such a weird feeling but it made me so excited being back out there," said Kennedy. "In my eight years of pro, it was never fun for me. But this was fun today. I'm now looking at hockey through a different set of eyes."
Kennedy feels he has shed much of the baggage from the abuse that haunted him in an NHL career in which he never lived up to high expectations.
"People were always saying to Sheldon Kennedy, if you only took care of yourself, you could be a great player," said Kennedy, who recently roller-bladed across Canada to raise money for the Sheldon Kennedy Foundation for abused children. "Now I have to take care of me and give myself an opportunity to play. As a kid, I dreamt of playing in the NHL but, once I got there, it all got fogged out. I was scatter-minded. I didn't even want to be there. I've met a couple of kids who were abused at school. They didn't want to go to school. I could relate to them."
During his cross-country trek to raise funds for abused children in September, the depth of Kennedy's off-ice troubles were exposed when he crashed a borrowed off-road vehicle -- a Hummer --into a side-rail on a bridge in Edmonton and fled the scene.
Days later, a teary-eyed Kennedy admitted he had seven or eight beers before the accident and that he owned the small amount of marijuana that was found in the vehicle. He escaped with a $115 fine for not reporting the accident but there were no charges for drunken driving or possession of narcotics.
Kennedy, who retired prior to last season after shattering a leg in an accident in all-terrain vehicle, revealed Monday that he has just enrolled in a health program with the National Hockey League Players Association in which his lifestyle will be closely monitored.
"I'm going to pee in a bottle after I leave here," bragged Kennedy. "I've dealt with the big issue of Graham's abuse but there are little finger problems that still have to dealt with. I don't wake up craving a drinking but sometimes I'll have a beer to relax."
Kennedy sighs deeply over his label as an under-achieving NHLer.
"It bothers me, knowing that I could have been better. One season in Detroit (1992-93), I stopped drinking for four or five months and I scored 20 goals (actually 19) playing on the fourth line with (Bob) Probert and (Joey) Kocur. But now it's different.
"I've got nothing to hide," he said, grinning boyishly. "Man, that's the coolest part of it all."
Quick Sketch
- Age: 29.
- Hometown: Elkhorn, Man.
- Family: Wife Jana, daughter Ryan.
- Hobbies: Biking, golf, fishing.
- Position/shoots: Right wing/right.
- Height/weight: 5-foot-10/180 pounds.
- NHL draft: Detroit's fifth pick (80th overall) in 1988 entry draft.
- NHL career: Trade to Winnipeg for 1995 third-round draft pick (Darryl Laplante in 1994; claimed by Calgary in 1995 waiver draft; signed by Boston as a free agent, July 17, 1996).
- NHL totals: 310 games, 49 goals, 58 assists, 107 points, 233 penalty minutes.
- Flames' career: Kennedy spent parts of two seasons in Calgary (1995-96); 71 games, 10 goals, 15 assists, 25 points, 81 penalty minutes.
Source: Boston Bruins' media guide
-- Calgary Flames Website
Former Hockey Player Completes Cross-Canada Skate
Ultramarathon World, 11/98
Victoria, B.C. (UW) - Former National Hockey League player Sheldon Kennedy finished his cross-Canada tour Saturday by plunging his in-line skates into the Pacific Ocean -- at the same point where ultrarunner Al Howie set a cross-Canada running record in a little over half the time seven years ago. Kennedy took 134 days to skate from St. John's to Victoria; Howie took 72 days.
Howie was among those who greeted Kennedy and shook his had at the plaque that commemorates Howie's record, which stands as one of the greatest documented journey runs by any athlete. (Howie's Report).
As Kennedy made his way to the shore, a crowd of well-wishers lined the route to cheer him on. HIs 8,000 kilometre joruney, which began May 30, was undertaken to raise money for victims of child abuse. To mark the completion of his run, the the B.C. government announced a $30,000 donation his foundation, to build a ranch retreat in the province for abused children. Kennedy has said that when the skate was finished, he would begin work on the Anaphe Ranch. His run raised an estimated $2.7 million. The goal was $5 million. Kennedy said he achieved more than money could ever buy because he accomplished his goal of boosting awareness about the abuse of children. Kennedy came to international prominence last year when he disclosed how Graham James, his junior hockey coach when he played for the Swift Current Broncos, had sexually abused him. James is now in prison.
The low point of Mr. Kennedy's 134-day odyssey came last month when he admitted to drinking beer before crashing a car in Edmonton in late August. He also said marijuana police found in the vehicle was his. He has said he may attempt an NHL comeback if any team shows interest. His hockey career ended after the 1996-97 season when the Boston Bruins declined to re-sign him after he suffered a broken leg in an ATV accident. (Ultramarathon World: fox.nstn.ca/~dblaikie) <http://fox.nstn.ca/~dblaikie)>
-- Ultramarathon World (Defunct)

Former Hockey player Campaigns Against Child Abuse
by Zoe Brown, Jamie Thompson and Janeve Everett
Banded Peak School
Bragg Creek, Alberta, 11/98
The mood in Banded Peak School was electric.
Sheldon Kennedy stood at the back of the gymnasium, which was packed with over 400 students, teacher and parents. We had all seen him on television, in the newspapers and heard him on the radio, but today, we were going to have the chance to meet the man who skated across Canada in person.
Our principal, Brant Parker introduced Sheldon Kennedy as a person who has had many difficulties in his life, but he is someone who has chosen to speak out and make a difference in the world. Everyone erupted in applause as he entered the gym.
Kennedy shared with us how important it is to let people know if you are being abused.
"All children born into this world are born with the ability to love and to trust. When you are abused, you lose your ability to love and to trust. You don't really care what happens to you", he told the audience.
"Many people blame themselves, but you need to know that it's not your fault. It is the fault of the person who is doing it to you. Children must begin to have conversations with their parents and other they trust about child abuse."
Kennedy then allowed children from Banded Peak school to ask questions.
"Why do people abuse kids?" a shy voice asked.
"Some of these people want to have control over others. Some of them don't even think that it is wrong. Some think that it is a way of showing love, but it is not. It is wrong. No one should have to put up with abuse."
After Sheldon Kennedy spoke, a group at Banded Peak school called the Peacemakers presented him with a cheque for over $250 which we had collected for the Sheldon Kennedy Foundation. The Foundation will use donated funds to create the Anaphe Camp near Radium Springs, British Columbia, a place where Canadian children can go to begin healing from the pain of child abuse.
Later, the principal challenged Kennedy by asking him if he would climb the climbing wall in the Banded Peak school gym. He was able to reach the top. He told us that it was a great honour to climb the wall. He thought that it was kind of like the Anaphe camp. It was about trying to reach for personal goals in your life and trusting someone on your way.
Finally, Kennedy and Wayne McNeil, President of the Sheldon Kennedy Foundation, sat in on Bill Belsey's grade seven Career and Technology Studies (CTS) class, which is affectionately know as "Change the World 101".
The class lead by student Katherine Gronseth, showed them the incredible research they had done in support of abused children everywhere (www.rockyview.ab.ca/bpeak...phe.html). <http://www.rockyview.ab.ca/bpeak/belsey/anaphe.html).>
Impressed by the quality of research and quantity of online resources that were presented in the class's Web page, Kennedy and McNeil asked the teacher and the class if they would like to be directly involved in the management and promotion of the Sheldon Kennedy Foundation's Web site, www.Anaphe.com.
The students eagerly accepted this challenge and will be visiting the Foundation's offices in downtown Calgary very soon. We invite all Canadian schools to take up Banded Peak's challenge:
A CALL TO ALL CANADIAN (and hopefully other) SCHOOLS
Sheldon Kennedy, the NHL (National Hockey League) hockey player who broke the silence about the sexual abuse he suffered at the hands of his hockey coach as an adolescent, has just finished skating across Canada to raise funds as well as awareness on this issue.
The funds will be for the creation of the Anaphe camp, a place where affected youth can go and begin to heal from the abuse. In partnership with the Sheldon Kennedy Foundation, Banded Peak School in Bragg Creek Alberta is helping Sheldon promote the issues he raises and realise his dream for the Anaphe camp. All schools which are online are now encouraged to help support Sheldon and other youth in the following ways:
1) place a copy of the Anaphe camp logo on their school's home page and link it to www.anaphe.com
2) get teachers and students to discuss the issues that Sheldon is raising
3) do research about these issues and create Web pages with links to appropriate online resources and
4) organize a fundraiser to support the creation of the Anaphe camp.
For more information, please contact Bill Belsey (belsey@mail.com) at the Banded Peak School and the Galileo Professional Development Centre
Anaphe - a place for healing
By Graham Adams, Tyler Harris, Britney Jones, Janeve Everett, Zoe Brown and Jessica Cromwell Banded Peak School
Bragg Creek, Alberta
Anaphe, we hear the word all over the school. Anaphe. What is Anaphe?
A man named Sheldon Kennedy is at the top of the Anaphe chain. When he was sixteen, Kennedy was sexually abused by his coach, Graham James, over 300 times, once at gunpoint.
Kennedy went on to become a NHL player but he remained silent about the events of his past life. However, in 1997, he decided to speak up. He wanted to be heard and he wanted other kids who had been abused to speak up also.
Kennedy began a skate across Canada and as people started to follow, he began to work towards his ultimate goal -- to raise money for a 400 acre camp in British Columiba where abused kids could come to recover.
Abuse
a poem by Rudee Hastie
Why does it have to be this way?
Every night in bed I pray.
Forgive myself?
I could not.
In my mind I slipped away.
It's help I need,
And it's help I got.
Finally, I told myself I'll be happy,
At a special ranch called Anaphe.
-- Stemnet (Defunct)
Sheldon Kennedy Returns to Hockey
By HOWARD RICHMAN
Date: 11/17/98 21:30
Nobody really knew Sheldon Kennedy.
Nobody knew Kennedy had problems so painful, so secret that it would take years for him to share them.
Not Blades coach Paul MacLean, a teammate of Kennedy's with the Detroit Red Wings back when Kennedy was a young NHL renegade who had a reputation for booze.
Nobody really knew until Kennedy revealed in 1997 that he was sexually abused hundreds of times as a junior hockey player.
"We didn't brand him as a problem. He was more disruptive to himself than he was to the team," said MacLean, who will see Kennedy when his Blades play the Manitoba Moose at 7:35 tonight in Winnipeg. "Now that we know what happened to him, it explains what I saw when he was young."
Kennedy stunned the sports world last year with the charge that he was sexually abused by former junior hockey coach Graham James when he played for the Western Hockey League's Swift Current Broncos in the 1980s. The news rocked hockey at all levels of play.
Although a court order by a Toronto judge prohibited publication of his name, Kennedy claimed that James sexually abused him more than 300 times starting in 1984 and lasting for about six years.
"He (James) stole my ability to love and trust," Kennedy said by phone this week. "When you lose those two things, it's difficult to live. So I had to live a lifestyle that hid the pain. The drinking...that could numb the pain. But until you deal with the problem, that's the way you live your life."
James, who received a 31/2-year sentence for assault against Kennedy and other players, was granted day parole last month. Kennedy is in the process of recovery.
Kennedy, a right winger who played 310 NHL games for Detroit, Calgary and Boston, including 56 games for the Bruins in 1996-97, recently signed a 25-game tryout with Manitoba.
Kennedy, 29, could play tonight against the Blades or crack the lineup against Kansas City on Friday. He should be ready to roll this week after recuperating from a broken leg that kept him sidelined all last season.
Kennedy got his wheels in shape this past summer as he roller-bladed 8,100 kilometers down Highway 1 in Canada to promote awareness of sexual abuse. His trip raised more than $3 million for the Sheldon Kennedy Foundation, which when complete will house a ranch located in British Columbia for sexually-abused children.
"I had 70-year-old men along the way, crying, saying thank you to me," Kennedy said. "The biggest thing about this is to show people who have gone through what I went through that they don't have to keep it inside.
"No scientist can create a pill and make this go away. It's a matter of us helping ourselves. Facing my problems allowed me to finally feel good about myself."
Blades defenseman Brent Bilodeau also played for James at Swift Current, after Kennedy had moved on. Bilodeau understands how Kennedy got trapped.
It's a familiar situation all across the junior hockey ranks. Parents pack their teen-age sons' bags and put them on buses. If they're lucky, the final destination is a top-flight junior team and a host family that will look after the player.
"My respect for Sheldon is awesome," Bilodeau said. "To admit what he went through....I can't say I was shocked. When I was there, he (James) once invited me over to his house to watch a movie. I said no.
"He gave a couple of guys on the team, his favorites, things like clothes, watches, a VCR. He looked for guys with low self-esteem, young kids just away from home, whom he could manipulate."
Kennedy was a time bomb ready to explode when he escaped James' torture and made it to the NHL. His psychologist, Barbara Schmalz, said he was even borderline suicidal.
"When he first saw me, he was in pretty rough shape," Schmalz said by phone from her Calgary office. "He didn't know what to do. He was lost. People spin out of control and hit a wall. There was the potential for (suicide). He showed the symptoms."
Kennedy has taken steps to recover. There is hope, Schmalz said.
"We probably never get over things like this 100 percent," she said. "But I think Sheldon will maximize the gains that can be made because he's shown that he can balance things. He's never been out for revenge, not motivated by anger. The best recovery is to not be preoccupied with the past."
The outlook is promising for Kennedy and for players in the Western Hockey League. The league has taken measures to ensure what happened to Kennedy never happens again.
WHL teams require players to attend Red Cross abuse seminars. And anybody who deals on a daily basis with players, whether they're coaches or front-office staff, must fill out security release forms as part of background checks. The forms may be made available to the Royal Canadian Mounted Police.
As for Kennedy, he'll keep one eye on the WHL and the other eye on the future. Returning to the NHL isn't a major concern for him. Taking care of his wife, kids -- and himself -- is.
"I've been scraping the bottom of the pot for a long time," Kennedy said, "but I'm starting to climb the ladder."
To reach Howard Richman, Blades reporter for The Star,
call 234-4701
All content © 2000 The Kansas City Star
Sheldon Kennedy Makes Hockey Return
11/20/98
When Sheldon Kennedy decided he was ready to return to professional hockey, he had just one firm offer -- Manitoba on the Northern Hockey League.
While he also attracted interest from IHL teams in Orlando, Houston and Chicago, Kennedy decided he would make his comeback in his home province with the Manitoba Moose.
"That's where I was most comfortable," he said Thursday in a conference call from Winnepeg.
Kennedy is scheduled to make his comeback tonight against Kansas City. It's his first appearance as a hockey player since going public with his story of sexual abuse by his junior coach, Graham James. He will be tested early, since the Moose play three games in three nights.
Kennedy, who played eight NHL seasons with Detroit, Calgary and Boston, sat out all of last season with a leg injury, during which time sexual abuse in minor hockey became a national issue with the trial of James.
It was a year of soul searching for Kennedy, who said he emerged with a better understanding of his ordeal and the effect it had on his life and work.
And it made him want to give pro hockey one more try.
"I started to think about the effort I put into the game. I always felt I could do better, but never did. I always felt I was a good player, but never showed it. I had to get to the bottom of why these things never came to be. I think it came to me last summer."
The Elkhorn, Manitoba native crossed the country on inline skates last summer to raise $3 million to build a ranch for abused children.
"I enjoy it now," said Kennedy, who signed a 25-game tryout contract with the Moose after a recent three-day conditioning stint with Canada's National Team. "I enjoy watching the game.
"I enjoy the people involved in the game. I think before it was a matter of being scared. I'd think that people thought that when I took my clothes off after a game, I'd have green skin or something."
He even watches hockey on television now.
"My wife used to love me," he joked. "I'd just watch her shows -- ER or whatever. Now she's got to go upstairs to watch it."
He said he's gone from a player who never lifted a weight or rode a stationary bike to one who cares about conditioning and preparation.
And he realized that, after all, playing hockey was fun.
"I was always jealous of the guys who would come to the rink and enjoy it," he said. "It's a weird situation for me now because it's fun and I can see why guys enjoyed it before.
"Before, going to the rink wasn't fun and watching hockey on TV wasn't fun. Whether it brought back memories or whatever, I just wanted to distance myself from it."
Coach Randy Carlyle told Kennedy he would be eased back into action, but with limited rosters, teams can't afford to have players miss too many shifts.
And the campaign against child abuse remains in full swing.
"In Winnepeg last week, there were kids being harrassed in a schoolyard and they went right away to their principal," Kennedy said. "When I see that -- kids taking action right away -- whether it was because of me or not, it makes me feel good."
-- Northern light

Moose Sign Kennedy to 25-Game Tryout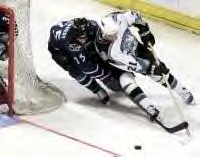 Kennedy, left, chases another player with the puck
November 7, 1998
WINNIPEG, Manitoba (Ticker) -- Former NHL right wing Sheldon Kennedy, who was the victim in a sexual abuse case and sat out the 1997-98 season with a leg injury, today signed a 25-game tryout with the Manitoba Moose.
Kennedy was a 1988 fifth-round NHL draft pick by Detroit and appeared in 183 games with the Red Wings from 1989-94. He had career highs of 19 goals, 11 assists and 30 points in the 1992-93 season.
The 29-year-old then played 71 games with the Calgary Flames from 1994-96 before splitting the 1996-97 campaign with the Boston Bruins and their AHL affiliate in Providence. In 310 career NHL games, Kennedy has 49 goals and 58 assists with 233 penalty minutes.
"This is an opportunity for Sheldon to compete for a spot on our club," said general manager and head coach Randy Carlyle. "It is also a situation where he can begin his return to professional hockey and we look for him to work hard with the other members of our hockey team and make a positive contribution."
Kennedy was sexually abused over 300 times by his former junior coach, Graham James, who is serving a prison sentence that will keep him behind bars for 3 1/2 years.
Following a more than 10-year silence, Kennedy leveled the allegations against James, shocking the hockey community. Kennedy also revealed that James abused several other players, and the then-respected coach stood trial and was found guilty.
"I'm more excited about the game of hockey now, than I ever was before," said Kennedy. "Winnipeg is a great place to play and a good environment for me to concentrate on hockey; and the Manitoba Moose are one of the best organizations in the IHL. I plan to work hard and give myself the best opportunity to be successful. I'm actually more nervous coming to the Manitoba Moose than I was to my first pro training camp."

-- all-sports

Sheldon Kennedy On The Road To Recovery
By John Barlow
11/11/98
She sits in the stands watching the hockey practice and she can't keep the smile off her face.
Her boy is back.
Jana Kennedy was high in the stands at the Okotoks Recreation Centre on Thursday keeping a close eye on her husband, Sheldon, as he practiced with the Okotoks Bantam AA Oilers.
"He is a 12-year-old in a 29-year-old's body," said Jana of her celebrity husband. "For him to come out and boot the puck around is fun. He is so good with the kids, he comes alive."
In the past few years Sheldon Kennedy has slowly started to live his life again after surviving a youth in which he was tormented by his former junior hockey coach Graham James.
James, former coach of the Calgary Hitmen, was sentenced to three years in prison for sexually assaulting Kennedy and another player more than 300 times while coaching the Swift Current Broncos of the Western Hockey League in the mid 1980's.
Kennedy's horrific story rocked Canada to its core and the aftershocks are still being felt two years later.
However, revealing his secret has allowed Kennedy to get on with his life and try and restore a love that was stolen from him. A love for hockey.
Kennedy recently signed a 25-game contract with the Manitoba Moose of the International Hockey League. Kennedy hopes his stint in the IHL will earn him the attention of NHL scouts.
"I am looking at this as a second chance," said Kennedy outside the Oilers' dressing room. "My first chance was stolen from me. I played eight years in the NHL and never enjoyed it."
Living with the memories of James' heinous acts, Kennedy spent much his time in NHL drunk or high or both.
Finally, after spending five seasons in Detroit, two in Calgary and another in Boston, Kennedy hung up his skates to deal with what had happened to him as a teenager in rural Saskatchewan.
Kennedy initiated a campaign to educate Canadians about the disease which robbed him of his youth.
"Sexual abuse is like cancer was 30 years ago," said Kennedy. "No one wants to talk about it, but now it is in the forefront."
The former NHLer has established a ranch in B.C. for sexually abused children. He also rollerbladed across Canada to raise funds for his charity. The skate raised more than $3 million for the Sheldon Kennedy Foundation.
"When I started the skate I did not know what to expect, I thought I might get kicked off the road or something," said the shy Kennedy. "It was really scary."
What happened was an outpouring of emotion and generosity from Canadians across the country, as literally thousands flocked to the streets and highways each day to skate with a Canadian hero.
"I skated across Canada to make this country safer for kids," said Kennedy. "The bottom line is that if something happens to you, tell somebody."
Spending time on the road and meeting people who suffered the same horrors as he did, has lifted the dark shadow from Kennedy's tortured soul.
"He is excited again," said Jana, smiling. "It has been a long time."
Coming to Okotoks and other communities and spending time with young hockey players is now Kennedy's psychiatrist.
"Helping the kids means just as much to him as it does the kids," she said. "It is free therapy."
Kennedy has not forgotten about the hell he lived through 15 years ago, but has put it behind him and he is ready to try to enjoy what he should have savored years ago.
"I am ready to play hockey again," said Kennedy, barely able to contain his enthusiasm and showing off his infectious grin. "Oh, man am I excited, for sure."
Every Canadian shares Kennedy's eagerness. They want to see their newest hero strut his trademark break-neck speed bursting down the wing on Hockey Night in Canada.
Only this time, all will savor what they previously may have missed.
-- Western Wheel
Kennedy Scores Winner For Moose
11/21/1998
WINNEPEG, Manitoba (AP) -- It's been a long time since Sheldon Kennedy has been able to smile about a hockey game.
The 29-year-old forward was able to do just that Friday night after playing his first game in 1 1/2 years and scoring the winning goal in a 5-2 triumph by the Manitoba Moose over the Kansas City Blades in an IHL game.
"I looked in the stands and saw a few people were happy for me. It was a good feeling," Kennedy said emotionally. "It was uplifting and exciting."
The teams were tied 2-2 late in the second period when Kennedy drew a hooking penalty against the Blades. He played the second half of the power play, sliding the puck under Patrick LaLime while standing at the front edge of the crease to give the Moose a 3-2 lead.
His teammates mobbed him and the crowd of 6,000 gave him a standing ovation.
"If you look at the Sheldon Kennedy story, there was always a sad ending; not like this goal-scoring thing." Kennedy said.
Kennedy, a veteran of 310 NHL games with Detroit, Calgary and Boston, went public in January 1997 with his account of sexual abuse by his former junior coach Graham James, who was subsequently convicted.
Last summer, Kennedy completed a 136-day, 5000-mile inline skate across Canada, which raised $3 million towards his foundation for aiding child victims of sexual abuse and to build the Anaphe Ranch in British Columbia for abused kids.
He said the goal was unexpected.
"It was kind of a shocker," he said. "I didn't go out wanting to or expecting to."
Moose coach Randy Carlyle was pleased with his new forward's performance, considering it was his first game in a 25-game contract with the Moose.
"Sheldon made the sacrifice," Carlyle said. "There is going to be a lot of analyzing going on. Sheldon has accepted the pressure and is moving on. He seems to be at peace with himself.
"I thought that he was a real positive for our club emotionally. Everybody on the bench felt good for him. He was more nervous than anything."
-- Northern light
Skating on thin ice: Donors to the Sheldon Kennedy Foundation are placing much trust in the neophyte charity
By David Baines
Canadian Business
Nov 27, 1998

"Got rid of the minivan today to make way for our Hummer!Humma, Humma, Humma! Can't wait to take that badboy for a spin! Can't keep my eyes open tonight. I'm just bagged. Time for some tunes. Nothing like a bit of Bob Marley to chill out to."
--excerpt from Sheldon Kennedy's diary Aug. 25, four days before he crashed a Hummer
loaned by an Edmonton car dealer and left the scene without reporting the accident
On Oct. 12, when he officially completed his cross-country in-line skate for abused children, former National Hockey League (NHL) winger Sheldon Kennedy told Vancouver reporters: -We've done an incredible job of raising awareness about an issue that is usually taboo to talk about."

Equally taboo, it appears, is questioning Kennedy and his foundation, which is trying to raise $15 million to build a ranch for abused children near Radium, BC. Reporters across the country have uniformly embraced the cause, giving Kennedy-who was sexually abused by his junior hockey coach, Graham James-the thumbs-up at almost every milestone. This is not surprising given the ordeal he endured as a teenager, the odyssey he has undertaken as an adult and the nature of the problem he is attempting to redress. But as the foundation heads into the corporate fund-raising stage of its program, there are several lingering concerns.

The main one is that the Sheldon Kennedy Foundation Inc. is a neophyte charity with no track record. This makes it fundamentally different from Terry Fox's run for cancer and Rick Hansen's wheel for spinal-cord research, which raised money for well-established beneficiaries. It also places a heavy responsibility on the foundation to ensure that donations are marshaled for productive purposes; but even at this stage, its plans are sketchy. "Well, you know, it may sound bad, but we don't have a business plan," foundation president Wayne McNeil, a Calgary businessman, admitted. He said the foundation's directors were not sure how much money the skate would raise and, therefore, the type of facility the foundation could afford to build and operate, "so we opted to do the fund-raising up front." McNeil said the foundation will now hire professional fund-raisers to solicit money from the corporate sector, "then we will sit down with the board and come up with a plan that will start to achieve the goal of building a facility."

With the press focused on the philanthropy, there has been virtually no mention of the fact that the foundation paid Kennedy $7,500 per month plus expenses during the skate. (Fox and Hansen received no personal remuneration for their expeditions.) "He's got a family. He has the same concerns about day-to-day expenses that you and I would have," said Mc- Neil. "I don't know too many people in this posi- tion who can work for free." Asked why the foundation did not previously disclose Kennedy's compensation, he replied: "Because nobody's ever really asked."

Then, there is the Hummer incident. Shortly before 3 a.m. on Aug. 29, after drinking seven or eight beers, Kennedy smashed a $110,000 Hummer loaned to him by an Edmonton car dealer into a bridge abutment, causing almost $25,000 worth of damage to the vehicle. Leaving a bag of marijuana in the Hummer, Kennedy and an unidentified friend left the scene and did not formally report the accident until 19 hours later. That night, police gave Kennedy a $115 ticket for failing to report the accident.

Because the offence was a mere traffic violation, it took the police a few days to track it down after being contacted by the media. Kennedy, meanwhile, didn't provide details of the accident to the foundation's directors until 12 days later, when it became obvious that The Edmonton Journal was about to break the story.

At an ensuing news conference, Kennedy admitted he had been drinking and driving and had failed to report the accident. He also admitted the marijuana was his. He did not, however, identify who was in the Hummer with him. It was, in fact, Gordon Ross, the foundation's road manager and the person responsible for collecting donations along the skate route. Also, neither Kennedy nor Ross said anything about withholding crucial information about the incident from the foundation's directors. (Kennedy has since entered a substance-abuse program sponsored by the NHL and the NHL Players' Association.)

The foundation has not yet released any financial statements, so exactly how much money has been raised and spent to date is not publicly known. McNeil said that, by the time Kennedy completed his skate, the foundation had collected $2.7 million. Of this, more than $1.6 million had been provided in the form of goods and services, including the raw land upon which the ranch is to be built. After paying various expenses, including staff salaries, he said there could be as little as $500,000 cash in the kitty.
This places a heavy onus on corporate contributions to make the ranch a reality. Until then, it remains merely an idea-albeit a noble one.