2006 has become the year of freedom for Sheldon. On April 16, 2006, his autobiography, "Why I Didn't Say Anything" was released in Canada throgh Insomniac Press. The release in the USA for this book was slated for October 1, 2006.
As of this writing, we are very happy to report that Sheldon is currently studying for his drug counselling degree and spending time with his ten-year-old daughter, Ryan, whom he dedicated the book to.
Way to go, Sheldon... congatulations... you deserve it!

Order the book:
Insomniac Press _/\_ Amazon Canada _/\_ Amazon USA
Below are the archives for 2006.

Dear Sheldon Kennedy -- By Laura Robinson
Kennedy's Warning To Nation's Hockey Parents
Kennedy Speaks Out About Recent Abduction
Former NHLer Tees off Against Domestic Violence
Ontario Professor Joins IOC On Hazing
Olympics: Kennedy On Abuse Panel
Former NHLer's Life Makes A Best Seller

Dear Sheldon Kennedy ...
LAURA ROBINSON
From Saturday's Globe and Mail
Why I Didn't Say Anything: The Sheldon Kennedy Story
By Sheldon Kennedy with James Grainger
Insomniac, 234 pages, $29.95
Dear Sheldon: Even though I started writing about you in 1996, and have talked about you since 1998, when my book came out about the rape culture of the locker room, I never did meet you. I don't think any of the messages I left with the hockey brass and your agent were passed on, and I figured as much. They knew you had seen way more in Swift Current than the inside of a hockey rink. They knew we might put it altogether.
I'd spent years digging into an alleged horrific rape of an innocent girl by two of the players on the Swift Current Broncos, and you'd been raped by the coach who coached the two players. They knew Graham James's victims numbered as many as 100 players. Might the ugly swath of sexual violence be cyclical? Might some of the victims already be victimizers?
The brass tried their best to let the smallest amount of information get out there, so people wouldn't connect the dots. Well thanks, Sheldon. Thanks for connecting the dots in your life, however horrendously painful the process was and still is, and thanks for putting those dots on paper in Why I Didn't Say Anything, because you have turned dots into an honest and terrifically important Canadian constellation, and I don't know how you did it.
Your story starts with an emotionally and physically abusive father in the isolation of the family's farm in Elkhorn, Man. He treats you like dirt until you put on a pair of hockey skates, and then finds the cash to send you and your brother to hockey camp. Here, James — predator that he is — can spot your talent and your neediness a mile away. James is the keeper of the gate to a Canadian boy's biggest dream, a junior career followed by an NHL jersey. He, like all the other men with great power in the hockey racket, can open and close the gate at will. This, combined with hockey's homophobia, and the chummy club where James plays golf with the people who are supposed to protect the players, keeps your lips, and the lips of perhaps a hundred other boys, sealed. You spiral downward from there.
Just interviewing young people about how they were raped, either by a coach or a player from the nation's most fawned-upon sport, sent me to a psychiatrist. Their pain sliced my heart open, and the silent compliance of the people "in loco parentis," whether billeting parents, general managers, owners, other coaches or CHL executives, made me so angry I had to run for hours just to dry my tears.
But you, my friend, lived it from that fateful 14-year-old's day when James set up your cot by his bed, and just in case you didn't get the picture, brought his rifle along. I know you say over and over in your book that you are not a hero. That after the talk show and the telling of your story you'd retreat into alcohol and drugs, and couldn't have an intimate discussion if your life depended on it (which it eventually did). Believe me, you are a courageous human being, and a damned good storyteller. There were passages I loved to read, and here's one: "I had to be a hero but I wasn't even ready to be me. I still felt like a wounded three-year-old child stuck in an adult's body. I was drinking heavily and feeling ashamed of it. When I think of myself at that time, I see a man with a split personality. One of those personalities is a beaten-down drunk drinking out of a paper bag on a street corner. Then the drunk staggers over to a phone booth, gets in, and throws on his Superman cape and goes out to talk to the media."
Who knows why some people are brave, as you are — whether you acknowledge it or not — and others are cowards? You describe the scene, five years after you left Swift Current, when Darren McLean, a player who knew James was abusing a teammate, went to management to alert them. Sure, we'll fire him, they said, and didn't. You talk about that meeting in the locker room, where James was all-powerful, and how one by one the other players agreed to shut up and score goals. Only McLean and Kevin Powell refused to play.
I think of Germany in 1933, and I think of how boys did not question the iron fist of authority and donned the brown shirts of Nazi youth, and I think of those other players. They would have worn brown shirts. You, Sheldon and Darren and Kevin, you would have joined the underground.
There's something else. After you hit bottom as a paranoid, alcoholic junkie, you found your faith in the sweat lodge and fasts with native friends, who opened their hearts to you across the country. If there's ever a place to find sex-abuse survivors, it's the rez. One hundred years of residential schools guaranteed that. After I wrote Crossing the Line, that's where I ended up, too. Love the black humour about tragedy. There's an openness about why people are tripping over their lives. Why they so often don't let the light inside them shine the way it would have had an adult not snuffed it out so early in their lives.
Laura Robinson wrote Crossing the Line: Violence and Sexual Assault in Canada's National Sport and Black Tights: Women, Sport and Sexuality. She coaches the Niish Nobbie mountain bike team at Cape Croker First Nation Elementary School.
Former NHLer Sheldon Kennedy was in town this past week, talking about his book, Why I Didn't Say Anything, detailing his abuse as a youngster at the hands of hockey coach Graham James, his decision to go public about it later as an adult, a decision that led to James' conviction, and the battle with his own personal demons that came out of the experience.
Kennedy says while the book was in part therapeutic, he's now anxious to put that period of his life behind him, and looks forward to getting back into hockey, at the grassroots level, working with his 10-year-old daughter Ryan, who starts girls hockey in Alberta this fall.
"The book has been good," he said. "The big fear for me was getting back out, talking about it, and how I was going to handle that." Kennedy is taking addiction counselling courses via distance learning from McMaster University, and is working on an educational hockey website designed to simplify the process for people who want to get into coaching youth hockey as volunteers.
Kennedy's warning to nation's hockey parents -
Ex-NHLer hopes his story helps kids avoid sex predators
Toronto Star, The (Ontario, Canada)
April 10, 2006
Sheldon Kennedy is on the phone from his home in Alberta and the conversation, just getting started, is about - what else? - the weather. The winter, he says, has been a little too long.
He might have been speaking, though, of the last 20 years of his life, not just the past season. Kennedy has been living in an emotional and intellectual deep freeze ever since he first fell under the spell of the sexual predator Graham James as an innocent farm boy in Manitoba.
Can it really be 10 years since Kennedy shook up the hockey world, and beyond, with his accusations against James, then a respected coach in the Western Hockey League? My, how time flies.
"It was a blur. Most of my life has been a blur. Years went by like days," says Kennedy, who has lived most of 36 years, since he was only 14, with his mind dulled by booze and drugs. Even when he was playing in the NHL for Detroit, Calgary and Boston, or when he had the public's attention riveted upon his cross-Canada in-line charity skate to raise funds to fight the sexual abuse of children, he was drinking and using and hiding.
Who can forget how someone gave him a brand new Hummer to use during that cross-country drive and he crashed it, after consuming eight beers? He never will, that's for sure.
He won't forget either the night a couple of years ago that he found himself alone in his basement, a loaded shotgun and a bag of cocaine at his side, cowering amid hallucinations of his tormentor, James. For years the coach who had threatened him with a shotgun and abused him in the basement of the Kennedys' own farmhouse, had haunted him. Even when James was in jail, serving three years on charges laid after Kennedy finally told his then-wife Jana about his horrific experience, the memories were only a breath away.
Time and again he asked of himself, as others did: Why did it take him so long to out James, who is alleged to have abused scores of young hockey players. Kennedy's latest, lengthy stay in rehab has led to some answers, contained in Why I Didn't Say Anything: The Sheldon Kennedy Story (Insomniac Press, 234 pages, $29.95) due in bookstores tomorrow. Written in his last 16 months, clean and sober, it is a book that he hopes every responsible hockey parent might read, lest their kids fall prey as he did.
"There are 650,000 kids playing hockey in Canada. What are the odds? One in four boys by the age of 18 are victims of unwanted sexual advances," he says, while conceding programs put in place in recent years have probably weeded out some of the worst offenders.
Kennedy grew up in a strict family headed by a physically abusive father. He fit the profile perfectly for those who James preyed upon - naive, hockey-crazy, insecure, craving attention, afraid to confront his tormentor, or himself. James traded away any player Kennedy befriended, for fear his secrets would be revealed, and portrayed his prize player as a troublemaker and liar.
Kennedy eventually appeared on the Rosie O'Donnell and Oprah Winfrey TV shows, got to know Martin Kruze, the man who blew the whistle on the abuse at Maple Leaf Gardens and later took his own life by leaping off the Bloor viaduct. He was Canadian Press newsmaker of the year in 1997. When he finally told his story, NHL players were supportive, but he was still living a nightmare.
"Hockey is about power," he says. "It's a controlling atmosphere."
Kennedy lost more than his innocence. He also lost his love of hockey, which he said yesterday he has finally rediscovered. "This year, for the first time in a long, long time, I had a really good time playing hockey," his soft voice reflecting that joy. He's playing with the Flames alumni, guys like Joel Otto, Jim Peplinski and Lanny McDonald.
He considers himself lucky to be alive, goes to three or four AA meetings a week and is enrolled at McMaster University in the addiction counselling diploma program.
Been there. Done that. Now, wrote the book.
Copyright © 2006, Toronto Star Newspapers Limited. All rights reserved.
Former NHL forward Sheldon Kennedy has empathy for Mike Danton, the ex-Devil who is serving a 7 1/2-year prison sentence in Fort Dix for attempting to hire a hit man to kill his agent, David Frost.
In his book, "Why I Didn't Say Anything: The Sheldon Kennedy Story," the former Red Wings, Flames and Bruins player discusses in detail the sexual abuse he suffered from junior hockey coach Graham James and how the mental anguish eventually sabotaged his NHL career and his life.
Kennedy, whose disturbing memoir is being published in Canada this week and in the U.S. next autumn, told the Winnipeg Sun he often thought about killing James and easily could have wound up in prison like Danton.
"Oh, yeah, I was definitely there," he said. "I could have been (Danton). Mike Danton acted on thoughts. I went inward. It's just sad to me that he's in jail for seven years."
He said it was "really eerie" watching a recent CBC documentary on the Danton-Frost case.
"It just reminded me of that power that Graham had," he said. "It's almost like a brainwashing."
Kennedy, who put James behind bars in 1997, describes years of shame, substance abuse and guilt stemming from the sexual abuse that began when he was just 14.
After his hockey career was cut short, Kennedy wound up living near Calgary in a run-down house with no furniture or food. For seven days in December 2004, he remained in a furnace room, drinking tap water and ingesting cocaine. Paranoid that someone was in the house looking to get him, he held a loaded shotgun in his hands before finally making the call that led to his recovery.
Kennedy speaks out about recent abduction
calgary.ctv.ca
POSTED AT 4:59 PM Thursday, August 03
A former NHL player who knows first hand the damage caused by abuse is speaking out about the recent Saskatchewan case.
Sheldon Kennedy says the victims will live with fear for life.
"To me, it's time to take a serious look at this, damage it does, and how important it is to keep our society safe," said Sheldon Kennedy.
Kennedy revealed almost a decade ago his junior hockey coach, Graham James, abused him.
He says since then, it's been a long road to recovery.
Kennedy says society needs to look at how it sentences offenders, and even have them stay in jail if they can't change their behaviour.
"If we can learn anything from this, it's recognize people who will be reoffenders, and most of the time it's all of them. If they don't admit they've got something wrong with them," said Sheldon Kennedy.
Kennedy says he doesn't usually go through a day, without someone telling him their story of abuse.

Three city sports stars are doing their part today to raise cash and awareness for the Calgary Women's Emergency Shelter.
The stars, Stamps quarterback Henry Burris, former NHLer Sheldon Kennedy and Olympic curling silver medallist Mike Harris, are the honorary co-chairs of the 11th Annual Scotiabank Charity Golf Classic in support of the Calgary Women's Emergency Shelter. The Classic happens today at the Calgary Elks Lodge & Golf Club.
Scotiabank employee volunteers organize this annual game. It's expected this year's tourney will help bring the total funds raised over the last eleven years for the shelter to more than $500,000.
Former NHLer tees off against domestic violence

Published: Friday, August 04, 2006
Former NHL hockey player Sheldon Kennedy says he can relate to the goals of Thursday's Scotiabank Charity Golf Classic.
Money raised from the tournament goes to the the Calgary Women's Emergency Shelter to provide life-saving intervention to women and children affected by domestic violence.
Kennedy, one of the three honorary co-chairmen (with Calgary Stampeders quarterback Henry Burris and Olympic silver medal-winning curler Mike Harris), released a book this year titled Why I Didn't Say Anything: The Sheldon Kennedy Story.
It reveals the sexual abuse inflicted by his former coach in junior hockey, Graham James.
"I understand living in fear and having to go to a safe place," Kennedy said Thursday. "I needed a place of safety and couldn't find it, I didn't know where to go."
He explained how difficult it is to speak out when one is being abused, whether as a child or as a woman in a domestic violence situation. He said that, when he was growing up, he didn't think he could speak to anybody.
"I was bundled up in this fear -- you want to get out for a long time. Making the decision (to seek help) takes a lot of courage," he said.
Burris said he enjoys giving back to the community that has supported him so much, especially women in need.
"Women are the strongest creatures on the face of this earth," he said. "This is a unique opportunity to get involved to help the women here in Calgary . . . to deal with trauma and live a positive lifestyle they deserve."
The tournament contributes 51 per cent of the shelter's budget, said spokeswoman Joy Johnson Green.
"Without the Scotiabank tournament, our service would be significantly impeded," she said.
Volunteers with the bank have been running the event for 11 years.
This year, $45,000 was raised from corporate sponsors and 109 golfers who paid $325 a head, bringing the total to more than $500,000 over the history of the tournament.
Bob Taylor, manager of the Scotiabank branch in Mount Royal and organizer of the event, said the employees enjoy volunteering to support this relatively low-profile, non-profit organization.
"The women's shelter is vital to (abused families) to survive in the community," he said. "They need a place to go to sort things out and get back on their feet."
About 900 women and children use the shelter annually for a maximum of 21 days each. In addition to residential services, there is an outreach program, a community crisis program, men's crisis service and a 24-hour crisis line.
Last year, volunteers contributed 4,711 hours of service to the organization.
blinn@theherald.canwest.com
© The Calgary Herald 2006
Below: Former NHLer Sheldon Kennedy was one of three honorary chairmen of the 11th Annual Scotiabank Tournament Classic golf tournament that raised $45,000 for the Calgary Women's Shelter on Thursday.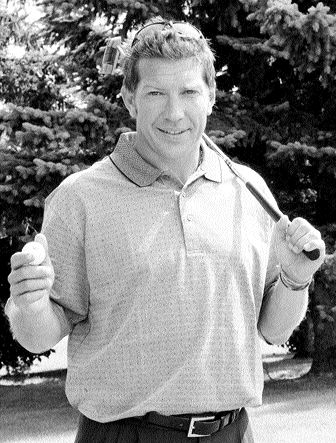 Photograph by : Lorraine Hjalte, Calgary Herald

Ontario professor joins IOC panel on hazing
Dave Waddell, CanWest News Service; Windsor Star
Published: Wednesday, August 02, 2006
WINDSOR, Ont. - An Ontario expert in sexual harassment, abuse and hazing in sport will soon see her two decades of work have an impact of Olympic proportions.
Dr. Marge Holman, associate professor in human kinetics at the University of Windsor, has been invited by the International Olympic Committee to be part of a convention charged with drafting a mission statement for the organization on sexual harassment and abuse in sport. Holman is one of eight speakers at the October gathering at IOC headquarters in Lausanne, Switzerland, and will also be part of the 15-member committee that writes the policy statement.
''I was surprised (to be invited) because we often work away in isolation, doing what we can in our own little corner of the world,'' said Holman, who co-authored the recently published book Making the Team: Inside the World of Sport Initiation and Hazing with colleague Jay Johnson. ''The IOC is trying to take a leadership role on this issue.
''Obviously, they can't develop policy for other organizations. But, by developing a statement and showing leadership, they're hoping other organizations will look at it and do what they can to make it a more positive climate for those in the athletic and sports leadership roles.''
Holman is one of three Canadians on the 15-member panel.
Joining her are former NHLer Sheldon Kennedy and University of Winnipeg researcher and former national team rower Sandra Kirby.
Kennedy is best known for his 1996 revelation of sexual abuse by his former coach in junior hockey, Graham James. Kennedy spearheaded a campaign to raise awareness of sexual abuse of children in Canada, including a cross-Canada trek on rollerblades.
''Sheldon's participation is important because he can provide personal insight,'' Holman said. ''He can identify the problems that make people more vulnerable.''
Holman's half-hour talk will focus on hazing and initiations and the process of developing policies so they aren't resisted as top-down solutions from administrators.
It was in this role of developing a sexual harassment policy for the University of Windsor in the late '80s that Holman first became interested in the topic as it applied to sports.
It eventually led to her giving a dissertation on the subject for her PhD.
''I was director of women's sports at the university for 18 years and coached for 25 and I noticed in doing this that a lot of the same things were happening in sports,'' Holman said.
''Sports are no different than any other organization in society, so it really shouldn't come as a surprise that this was occurring.
''We just didn't recognize it as harassment or abuse. We viewed it as team-bonding exercises.''
Holman said she only has to look in her own hometown to see examples of the work that still lays ahead.
''The whole episode with the Windsor Spitfires, which I'm sure will come up during the discussions, is an example where the goal of hazing for team bonding became extremely destructive,'' Holman said, referring to the investigation last year into a hazing incident on the Spitfires' team bus.
''To do that, we need to discuss where it occurs and why. If we understand that, you can understand what people are trying to achieve through hazing
''There's nothing wrong with team bonding. The goal is to substitute activities that achieve that goal without abusing or harassing people.''
Despite stories of hazing and initiations that claim the occasional life each year, Holman feels progress is being made.
''This IOC statement is a good example of that,'' Holman said.
''People are more aware. Organizations realize they need to address this or face litigation.
''When people are aware of the effects this has on others, they become more sensitized and don't want to be involved in it. There's a definite movement to do something in place of this.''
dwaddell@thestar.canwest.com
Windsor Star
© CanWest News Service 2006
Olympics: Kennedy on abuse panel
Citizen News Services
Published: Wednesday, August 02, 2006
Former NHL player Sheldon Kennedy, who revealed in 1996 that he had been sexually abused by junior hockey coach Graham James, and two other Canadians have been named to a 15-member panel charged with drafting a mission statement on sexual harassment and abuse in sport for the International Olympic Committee. Dr. Marge Holman, associate professor in human kinetics at the University of Windsor, and University of Winnipeg professor and former national team rower Sandra Kirby are also on the panel. Holman is to be one of eight speakers at the October gathering at IOC headquarters in Lausanne, Switzerland.
© The Ottawa Citizen 2006
Former NHL player's life makes a best seller
Kootenay News Advertiser (Cranbrook, British Columbia, Canada)
June 23, 2006
Sheldon Kennedy doesn't sound angry anymore.
The former NHLer, whose troubled life inspired a new best-selling autobiography, speaks with the calm conviction of a liberated man, one who has closed the book on his past and can finally begin scripting a better future.
If only he could say the same about Mike Danton.
A hint of frustration creeps into Kennedy's voice as he discusses the connection he shares with Danton, a once-promising NHLer who was jailed in 2004 after a failed murder-for-hire plot against David Frost, his former agent and junior coach.
Kennedy is reminded of the destructive path he followed after being sexually abused by ex-junior coach Graham James, a man he once trusted. Kennedy's tone elevates as he compares his own situation to Danton's plight, a consequence of Frost's alleged control over the former St. Louis Blues player.
"I absolutely believe there are parallels," insists Kennedy, who was in Regina on Thursday and Swift Current on Friday to promote his book, "Why I Didn't Say Anything: The Sheldon Kennedy Story". "A kid in the NHL doesn't want to kill his agent for no reason. Mike Danton acted on (his pain) the way I felt. How many times that could have easily been me. I just never acted on it."
Kennedy has never met Danton, but he'd like to. Asked what advice he would give the youngster, Kennedy recalls that the best counselling he ever received was from someone who didn't do much talking at all.
"I'd just try to listen to him, actually," explains the former Swift Current Broncos star, now 37. "I think the only person he trusts now is Frost.
That's sad but that's the way it was with me and Graham. They drive everyone else out of your life and the only person you've got is that one person."
Kennedy's indignation grows as he discusses the mentorship role of Frost, who is no longer a certified agent but reportedly still maintains close contact with his former client.
Danton is less than two years into a 7 1/2-year sentence in a U.S. prison.
"What really got me was . . . seeing how many times David Frost got kicked out of leagues and suspended and all this stuff around him and he was still involved (in hockey)," Kennedy says. "That's what blows my mind . . .
"Come on, guys. Wake up!"
Through various initiatives and charitable organizations, Kennedy has educated over 2.1 million kids and adults across the country and raised more than $1.5 million for abused children.
Now a guidance counsellor in Calgary, he hopes to continue building public awareness through his latest venture, an on-line education program called Respect in Sport. The goal of the project is to focus on "the good people" rather than empower those who deliver the wrong message.
James' empowerment came to an abrupt halt when Kennedy revealed that he had been sexually abused by James more than 300 times over a five-year period.
James resigned as head coach of the WHL's Calgary Hitmen in September of 1996. He was convicted in January of 1997 of sexually assaulting Kennedy and another player, whose name has not been disclosed. Kennedy made it public that he was an accuser after James pleaded guilty and was sentenced to 3 1/2 years in prison.
"I couldn't handle seeing him with these kids outside of the locker room when I was playing for the (Calgary) Flames," Kennedy says. "I had to do something about it."
The fact that Kennedy had the courage to come forward supports his assertion that no victim is beyond help - or hope.
That includes Danton.
"I'm going to try to get him a book in there (jail)," Kennedy says of his autobiography. "I think he could relate to it a lot. What I've done is really kept it simple. It's not psychiatric words. I think it really gives a huge understanding of the damage and what happens and how it happens. It's a red-flag book for parents. That's what I wanted to create."
The writing process had a cleansing affect on Kennedy, who now refers to the past as something that will always be a part of him, but no longer consumes him.
It was a bold progression for Kennedy, one that helped him vanquish an old demon along the way.
"Graham doesn't have that power over me anymore," he states, adding that he doesn't worry about what James would think of his composition. "The book is real to me. Who knows if he's going to read it and I don't really care. I don't really think about him much."
At last, Kennedy can focus on other priorities.
"I was asked to write a book a lot over the years, I just felt like the last chapter wasn't done," he explains. "To me the last chapter was finding some hope and some peace. I never thought I could get that. I've been able to get a little serenity in the last couple years. This was the first year that I enjoyed playing hockey again. I played with the Flames alumni this year and I had a blast. What did I have to do? I had to deal with how much I lost.
Eight years in the NHL and didn't really enjoy it. But I didn't enjoy anything in life."
Kennedy often refers to the "chaos" of his past and the unconscious desire to use it as a means of "escaping himself." But Kennedy is proud to say he doesn't hide from his problems in a bottle anymore, referencing his status as "a grateful member of AA."
It's all part of a healthier and happier lifestyle for the proud father, who is now free to enjoy simple things like spending time with daughter Ryan and enjoying getaways on his farm near Calgary. Kennedy even laughs at the novelty of fretting over normal every-day things like the yield of his wheat crop.
"I guess I have a passion for living again," he concludes. "I played eight years in the NHL, won a world junior (title), a Memorial Cup, have one of the most-watched movies in Canadian history and roller-bladed across Canada.
A lot of people could look at my life and say, 'Wow, man, you've reached millions of people, you changed millions of people's lives.' I feel like I'm just getting started."
Copyright 2006 Kootenay News Advertiser